I. Welcome & Introductions
Chair Tom Tidwell called the meeting to order at about 6:45 PM. A quorum was present.
II. Approval of Minutes
Minutes for the March meeting were approved.
III. Admit New Member Neighborhoods
Habersham Park (the combination of the Wyngate and Arden/Habersham neighborhoods) was admitted as a BCN member neighborhood.
IV. Future Topics
Tom Tidwell led a discussion of topics for future BCN meetings:
Atlanta Beltline CEO Brian McGowan – May Meeting
Tom commented that he would like to see the Beltline plan switch from light rail to autonomous vehicles. Hee thinks that by the time they get funding for light wait it will be outdated technology.
May Primary candidates – May Meeting?
Tom also thought it would be good to add candidates for the State House and Senate seats to the May meeting agenda. Rather than a debate or a forum, we could provide an opportunity for them to introduce themselves and give perhaps five minutes of comments.
Renew Atlanta – when and where is bond money being spent in Buckhead?
He also said he had been trying to contact representatives of Renew Atlanta to come to talk to BCN. He realized that the computer hack of the City's computer systems was keeping his emails from getting through. He wants to have them tell BCN where the money is being spent, etc.
Property Tax bills – effect of new bills and what will be voted on via Referendum in November
Northside Drive bridge project and traffic flows
APS Superintendent Meria Carstarphen
Mayor Keisha Lance-Bottoms
Collaboration with other neighborhood associations. such as Intown and Northwest Atlanta (don't know exact name of groups)
Other items of interest? If so, send an email to Tom.
V. Legislative Update
Mary Norwood
Mary Norwood made some quick observations about the City's efforts to make "Quick Fixes" to the Zoning Ordinance. She said she attended a public meeting and learned that that the second phase of the Quick Phases dealt with residential housing types. However, the plan dealt only with R4 and R5 zoning. They had nothing proposed for R1, R2, and R3 zoning types typical in Buckhead.
Mary said there was a meeting handout that she would email to Tom Tidwell. She said we know that both Bob Zoeckler and Aaron Fortner who are leading this effort care a lot but that they are apparently doing what they are being told. But, it would be great if the Buckhead Council of Neighborhoods would ask the City to please quickly dedicate some attention to the zoning types more typical of Buckhead. She said that attention was needed considering some of the abuses we experience, such as the 50,000 square foot home being erected in Tuxedo Park (larger than the White House in Washington DC) with four acres of trees clear-cut. She said that site on Woodhaven is "truly shocking".
She said that there are some things BCA could take a stand on about the new Zoning Ordinance and the rewriting of the Tree Ordinance: scale of houses, preservation of tree canopy, limited parks up here, etc.
Deborah Silcox, State Representative for House District 52
Deborah Silcox started by saying she appreciates the involvement of the BCN members. She said one of the biggest problems we have is that people are not paying attention to what's going on.
2018 Legislative Accomplishments
2019 Budget She said that the 2018 session was a dramatically better session than last year. She said they passed the 2019 budget, fully funding QBE (Quality Basic Education) for the first time since 2003. She said this passage was "fantastic" and that it should provide more than $7 million in benefits for K-12 Fulton County schools (including APS). She said $361 million was funded for the teachers' retirement plan. $750 thousand was set aside for STEM (science, technology, engineering, mathematics) AP exams – students will each get one test for free. A $16 million safety grant for school security was funded. A study committee will be meeting to make recommendations for a school safety report for the next session.
Transit House Bill 930, the Transit Bill, creates ATL (the Atlanta Region Link Authority) which enables 13 metro counties to coordinate their planning efforts. There will be a 16-member board, chaired by the Governor. The ATL area will be subdivided into ten planning districts. Each of the ten districts will have a voter referendum this fall on joining the 13-county ATL authority. MARTA will continue to be the sole rail provider. However, the ATL logo will replace the MARTA logo by 2023 on a gradual basis. Federal funds will come to ATL. The bill allows counties to add a sales tax of up to 1% to be spent on local projects. It remains to be seen what the role of autonomous vehicles will play in transportation. Silcox pointed out the autonomous cars will be narrower and should be able to double existing road capacity.
Taxes The tax bill which passed was the biggest tax cut in Georgia history, saving taxpayers about $5 billion. For 2018, the standard deduction will be doubled to $4,600 for individuals, $3,000 for married filing separately, and $6,000 for married filing jointly. The tax rate will drop for 2019 taxes from 6% to 5.75% for 2019 taxes. The rate may go to 5.5% in 2020 if approved by the Legislature and Governor.
Distracted Driving Bill She said she worked a lot on the Distracted Driving Bill. Accidents have increased dramatically. She said the expectation is the law will save 300 lives in Georgia each year.
Sex Trafficking Silcox created HB 732 which she calls her sex trafficking bill. The opioid crisis has had a big impact on sex trafficking. Silcox's bill expands the scope of trafficking to include not only those who "solicit" but also those who "patronize", allowing the "middlemen" (ad creators or those who hand out contact information) to be caught. Under current law, those middlemen may have been convicted of a misdemeanor. Now it will be a 5 to 20 year felony.
Gang Weapons Gang members sometimes get guns from a third person able to meet background requirements. Silcox said HB 657 makes it a felony for the dealer to transfer ownership of a weapon to anyone but the weapon's buyer. It also makes it a felony for anyone (such as the third party) to give or sell a weapon to a convicted felon.
Natural Resources HB 332, if approved by Georgia voters, authorizes the transfer of 40% of sales tax from the sales of sporting goods to go to the Georgia Outdoor Stewardship Fund to preserve trails, and to preserve natural resources and waterways. HB 785 permits the conversion of low grade, non-recyclable plastics into diesel oil, chemical feedstocks, and wax.
Medical Cannabis Oil The law is being changes to add PTSD and intractable pain to the list of conditions eligible for a 5% cannabis oil prescription. Because of Federal law, it remains illegal to bring the oil into the state or to grow cannabis in Georgia. Further, it is illegal to study the efficacy of cannabis oil or to research needed dosages. Silcox says the solution is for the Feds to reclassify cannabis from being a "Schedule 1" drug to "Schedule 2".
Prenatal Care Silcox had another bill, HB 99. She said that Georgia ranks very low in the nation for prenatal care (rank of 49) and maternal mortality rates (rank of 50). This bill allows the Department of Public Health to rate hospitals state-wide on a scale of 1 to 3 in their treatment capabilities. This will let women with complicated pregnancies to go to the appropriate treatment facility. 967 babies died before the age of one last year. 350 to 400 women died prenatal or immediately postnatal.
Fireworks Silcox's fireworks bill enables local governments to set fireworks hours and rules.
Property Taxes
Silcox brought a handout showing how property taxes are allocated by local governments. See figure at right. She described in words the following equations for how property taxes are computed:
Taxable Value = Assessed Value x 40% – Homestead Exemption
Property Tax = Millage Rate x Taxable Value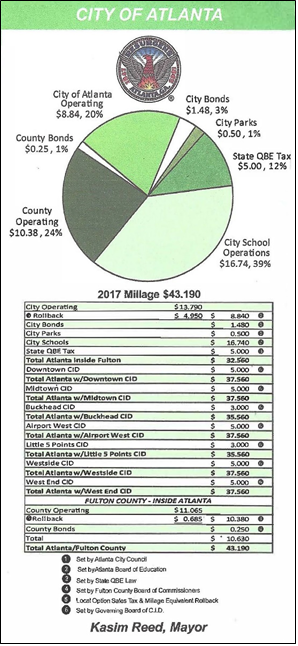 As shown in the figure, 20% of property tax 2017 collections went to the City of Atlanta Operating. HB 820, authored by Beth Beskin, will limit the growth of Atlanta taxes, if approved by voters in November. Silcox said, if approved, the growth will be no more than 2.6% per year, starting in 2019. Further, the base year will be set to the lowest of 2016, 2017 or 2018 assessed values.
SB 485, authored by Senator Jen Jordan (and others), affects Atlanta Public Schools which currently take 39% of property tax collections. This bill increases the Homestead Exemption amount from $150,000 to $500,000 for most homeowners through 2021, if approved by voters in November. The first $10,000 of the Assessed Value of all homes will be subject to tax.
HB 1064 established a senior tax exemption for Fulton County homeowners over 65. It raises their Fulton Homestead exemption from $30,000 to $50,000. Fulton currently takes 24% of property tax collections.
VI. Community Concerns & New Business / Announcements
Ben Howard – Noise Ordinance Issues
Ben announced a public meeting in April which was held with Councilmember Howard Shook and APD Major Barry Shaw to discuss the Noise Ordinance and how it may apply to noise, especially motorcycle noise. (Unfortunately, the meeting established that the Noise Ordinance afforded protection to single family homes and not for multi-unit housing.)
He also talked about another way that noise from motorcycles might be abated. He pointed out that the emission control equipment on vehicles, including motorcycles, involves EPA approved hardware. Noisy motorcycles invariably use aftermarket equipment that is easily identified since it Is not EPA labeled. He wants the state or the city to consider the non-EPA hardware a nuisance, like fireworks. Could a noisy motorcycle could be ticketed not for its noise but for unlawful after-market emissions equipment?
BCN DUES
Note that BCN dues are now payable for 2018. Neighborhoods should mail a $100 check, payable to the Buckhead Council of Neighborhoods to:
BCN
PO Box 420391
Atlanta, GA 30342
VII. Next Meetings
Thursday, May 10, 2018-Brian McGowan, CEO of Atlanta Beltline
VIII. Adjourn
The meeting adjourned at about 8:30 PM.