BCN Member Version – Login Required (PDF)
I. Welcome & Introductions
Chair Tom Tidwell called the meeting to order at about 6:45 PM.  A quorum was present.
He commented that he had planned to have Braves Stadium traffic as a meeting topic and then I-85 collapsed, so we'll talk about the resultant traffic issues tonight as well as what's going on in the Legislature.  Traffic will also be a topic of May's meeting.
Tonight's speakers were Representatives Beth Beskin, House District 54 and a Brandon resident, and Deborah Silcox, House District 52 and a Chastain Park resident.  Special guests also included Alex Wan, currently City Council District 6 who is running for City Council President., Matt Westmoreland, currently with the Atlanta Public Schools, who is running for the City Council Post 2, and Andre Dickens, City Council District 3.
II. Approval of Minutes
Minutes for the March meeting were approved.
III. Admit New Member Neighborhoods
No neighborhoods asked to be considered for BCN membership.  Debra Wathen pointed out that the Brookwood neighborhood had joined BCN and introduced Fleming Patterson, their president.  Fleming said his neighborhood was across Peachtree from the Brookwood Hills neighborhood and included about 66 homes.
Reminder About Candidate Forum- Questions for Forums
Tom reminded attendees that in addition to tonight's meeting agenda, BCN's most recent email included a proposal for the BCN Mayoral Forum on Wednesday, October 18.  The moderator for the Mayoral Forum will be Jim Galloway, Political Columnist for the Atlanta Journal Constitution.  A similar BCN City Council Forum is planned for Wednesday, September 27.  In that forum, each council office (City Council President, Post 1, and Post 2) will be allocated 30 minutes.  The moderator for the City Council Forum had not been selected as of meeting time.
Both forums will be held at North Atlanta High School.  As part of the agenda for those meetings, each neighborhood is asked to prepare a list of the five issues that are most important to them.  Candidates will be provided the questions submitted by the neighborhoods.  From this master list, a curated list of four to eight questions will be selected and also provided to all candidates. The shortened list will include the questions each candidate is expected to be ready to answer during the forum.
Click Here for Details on the BCN Mayoral Forum
Click Here for Details on the BCN City Council Forum
IV.  Speakers – Representatives Beth Beskin and Deborah Silcox
Deborah Silcox was elected to her first term in the Georgia House of Representatives last November.  This was her first meeting with BCN.  Debroah said she grew up in Sandy Springs when it was out in the country; Johnson's Ferry was a two-lane road; and she went to Underwood Hills Elementary School, Riverwood High School, University of Georgia, and then to Emory Law School.  She practiced law for ten years and served on various community service organizations and she helped start the Chastain Park Conservancy. Like Beth Beskin, she is a member of the Junior League.  She found the Legislature to be very welcoming and appreciates the fact that, unlike in Washington, members of the Georgia House are seated in an intermingled manner and are not separated by political party.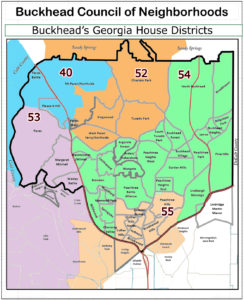 Deborah outlined the boundaries of her 52nd district with emphasis on areas adjoining Beth's 54th.  The 52nd extends from West Paces Ferry Road up about five miles to Morgan Falls Road, bounded on the east by Peachtree and mostly by Roswell Road.  Beth Beskin explained that her district is entirely within the City of Atlanta, and abuts the 52nd along the east side of Roswell Road, along Habersham, and along West Paces Ferry Road.  See the figure to the right.  Except for Beth's 54th, all of Buckhead's House districts extend beyond the edges of this map.  More detailed district maps are available at http://statisticalatlas.com/state-lower-legislative-district/Georgia/District-54/Overview#nav-map/zip-code.
The following discussion led by Deborah and Beth was especially interesting and productive because they shared the discussion with City Council representatives/candidates Alex Wan, Andre Dickens and Matt Westmoreland.  The interactions highlighted how the state and city governments can jointly solve problems that might otherwise seem insurmountable.
Deborah was selected to serve on the Health and Human Services Committee, the House Non-Civil Judiciary Committee (the committee that deals with criminal law), and the State Planning and Community Affairs Committee.
Deborah discussed a bill expanding the number of conditions authorized for treatment with medical marijuana.
Another bill considered addresses the need for a state-wide Google-type map of Georgia's infrastructure which other states already are using for planning things like transit.
A bill establishing a Georgia prescription drug (opioid) monitoring program to stop "doctor shopping" by drug abusers.  Pharmacists and doctors will be able to review the extent to which patients may have already received prescriptions for opioids.
A bill allowing dental hygienists to treat "underserved populations" without having to have a dentist present was approved.
In talking about gas station "slider" crimes, which became felonies under a recent bill, Deborah mentioned that Georgia had the largest number of people on probation of any state, apparently because judicial discretion is permitted involving laws lacking a mandatory sentences.
Beth outlined her legislative experience this session, having joined the Regulated Industries Committee, in addition to her participation on the State Planning and Community Affairs Committee, the Judiciary Committee, and the Education Committee.  She thought the Regulated Industries Committee dealt with things like alcohol, but that is where the Gambling Bill was assigned.
Beth discussed Campus Carry, which came through the Judiciary Committee.  It passed the House and Senate, though Beth and Deborah voted against it.  It differs from last year's bill (which Gov. Deal vetoed) by blocking licensed gun carrying in cases involving child care centers (a concern cited in Gov. Deal's 2016 veto) and where high school students are present.  Like last year, it blocks licensed gun carrying in dormitories, fraternity and sorority houses.  She commented that almost all Democrats and those Republicans living inside the Perimeter voted against the bill: it's an urban versus rural difference, Beth observed.
Beth said that throughout the session they were on the lookout for another "Religious Freedom" bill but it never happened.  She said that one thing we do need is a complete revision of the Georgia Adoption Code.  She reported that Cobb County attorney Bert Reid spent two years preparing a 100-page bill dealing with adoption.  It covered things like the waiting time before a parent could relinquish their rights to a baby.  At the last minute, people from the Senate attached an amendment to the bill that was basically a Religious Freedom type of change, withholding state funds from certain adoption agencies likely to arrange adoptions to same-sex couples.  The Speaker of the House was very upset but the Senate had not relented at the time of the BCN meeting.  (A Google search failed to indicate what happened to this bill, if anything, after BCN's meeting.)  She added that an adoption in Georgia now takes about 30 months; the national average is 13 months.  She said that shows how antiquated our adoption law is.
The School Reform bill was discussed next.  In November, voters rejected last year's Opportunity School District bill.  Governor Deal is still very interested in education – this "Plan B" bill (BH 338) passed, dealing with underperforming schools.  It appoints a "chief turnaround officer" to work collaboratively with the schools and provides funding to help improve these schools.  A companion bill (HB 237) sets up the Public Education Innovation Fund, a non-profit corporation that receives tax-deductible contributions from the public for use to supplement funding of local schools on a state-wide basis.  The Education Transparency bill (HB 139) was passed and sent to the Governor for signing.  It requires schools to publish both district and school-specific data, enabling the public to know how much is being spent at each school, for salaries, administration, facilities, etc.  There is a huge disparity in funding for schools.  She said, for instance, that APS spends as much as $19 or $20 thousand per student (including all sources, such as ESPLOST), while in other parts of Georgia, it is about $9 or $10 thousand per student.  She thinks we will hear more about that disparity in the future.
E-Commerce Tax: Purchases in stores result in sales tax collections.  Some purchases through online merchants result in tax collections, but not all.  The difference is whether the retailer has a brick and mortar presence in the state.  State law does not exempt the purchaser from paying the tax – if the sales tax is not collected by the online merchant, the buyer is supposed to prepare a "use tax" return at the end of the year – which rarely happens.  As a result, income tax revenues in the state are going up, while sales tax revenues are going down.  Deborah commented that ecommerce is causing a $274 million sales tax loss.  That's more that the Destination Resorts (Casino gambling) might generate.  The bill was not passed.
Autonomous cars – There was a brief discussion about insurance liability for driverless cars.  She reports that manufacturers are so confident of their technology that they are willing to accept all liability for accidents.
The Terroristic Threat Act – this one did pass.  Under the old definition of domestic terrorism, you had to kill ten people.  Things that are clearly contemplatable as terrorism such as an electromagnetic pulse intended to destroy the whole electrical grid or poisoning the water supply did not qualify as domestic terrorism.  Domestic terrorism was revised to include felonies with the intent to cause serious bodily harm to an individual or group, or cause major economic loss or public damage to public infrastructure coupled with the intent to intimidate the civilian population.  [This is not a verbatim quote but should convey the concepts involved.]
Senior school property tax exemption – Both Deborah and Beth worked hard to get this passed.   All Metro counties except Fulton have a public school tax exemption except for Fulton.  This issue basically involves whether to cure an undesirable ongoing loss of senior population to other counties by causing a revenue loss to Fulton's/Atlanta's public schools.  Efforts to change this with a tax exemption starting at age 70 failed again this year.  Beth said until the City or the Atlanta Board of Education encourages the Atlanta Delegation's Democrats to support the exemption, it will never happen.  Alex Wan commented that in discussions about possible annexation of unincorporated DeKalb County communities into the City of Atlanta, one of the biggest obstacles is that DeKalb currently has a senior tax exemption and Atlanta doesn't.  Andre Dickens said that this reluctance may be an opening for reconsidering the level of support for the exemption by the City.  He said that the new tax revenue from the non-seniors in the newly annexed might make up for the loss in revenue from granting the exemption.  Matt Westmoreland said in discussions with APS officials, an age 70 and up exemption would cause the loss of $14 million in tax revenues.  If most or all of the $14 million can be made up, a conversation about the exemption is possible.
V. Community Concerns – New Business – Announcements
Revised Plan for Wieuca Road / Phipps Boulevard Roundabout
At tonight's meeting, Gordon handed out large maps prepared by the Buckhead CID for its 2017 iteration of the plan which made changes in roundabout lane arrangement and provisions for pedestrian to cross the intersection safely.    ­­­­­­­Gordon Certain briefed attendees on a newly revised plan for a multi-lane roundabout in North Buckhead at the intersection of Phipps Boulevard and Wieuca Road.  This area's traffic is becoming increasingly congested, especially with the continued development of the high-density mixed-use areas bounded by Peachtree, Lenox and Piedmont Roads.  Concerned by the planned addition of about 1,000 new apartments in the area at or near the Wieuca/Phipps intersection, the North Buckhead Civic Association (NBCA) asked the Buckhead CID for a plan in March 2015.  A conceptual plan for a roundabout was presented to a broad stakeholder's committee in 2016.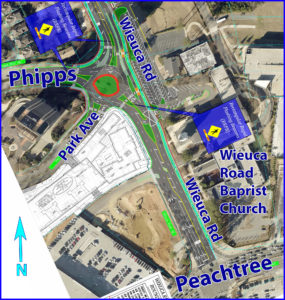 Gordon expressed concern that our drivers might not be polite enough to make the multi-lane roundabout concept work well during rush hours.  Deborah Silcox commented that they had similar concerns in Sandy Springs about roundabouts installed there but they are working great.  Gordon concluded by saying that how her roundabout will work during the Christmas shopping season is a complete unknown.  The Buckhead CID planned a public open house for this project on April 19.
I-85 Bridge Collapse
Alex Wan said the I-85 bridge collapse repair work was ahead of the June 15 completion schedule.  He said it is just a weather issue at this point – if the rain holds off, the schedule performance will be good.  He said the contractors are being offered multi-million dollar incentives for an ahead of schedule completion. He said re-routed drivers are being asked to obey the speed limits and to be sensitive to pedestrians in areas where there are no sidewalks.
Alex said APD has been responsive in keeping intersections from getting clogged.  Debra Wathen said she had not yet seen a single APD officer helping in her neighborhood.  Alex said that neighborhoods needing help should email him at awan@atlantaga.gov and he will immediately forward their requests for assistance to the "city team" for action by APD and GDOT as applicable.  Brad Kaplan said that his Pine Hills neighborhood has hired off-duty police to help with the Shady Valley/Buford Highway intersection during rush hours.
Another meeting participant noted that two City Council members were present.  He asked that the city figure out how to instruct the WAZE app to block certain streets from being used for cut-through traffic routing.  The questioner thought that WAZE already had a protocol for limiting routes at the request of affected cities.  Wan said he had heard all sorts of anecdotes about how WAZE could be "managed" by cities.  He said we could look at that issue but also said that there has been a lot of backlash about "no through traffic" policies since the roads are paid for by tax money. Deborah Silcox said that the City of Sandy Springs had tried to manage Braves stadium traffic routing and had not been successful. Given the questions about managing WAZE and cut-through traffic, the consensus was that the city should look into the issues from legal and policy perspectives and give the neighborhoods some clarity on what its policies would be, especially about WAZE.
VII. Next Meeting
Thursday, May 11, 2017
VIII. Adjourn
The meeting adjourned at about 8:20 PM.