BCN Member Version – Login Required (PDF)
I. Welcome & Introductions
Tom Tidwell called the meeting to order at about 6:45 PM.
II. Approval of Minutes
Minutes for the May meeting were approved.
III. Admit New Member Neighborhoods
No neighborhoods asked to be considered for BCN membership.
IV. BCN Standing Committees
Communications
Jeff Clark of Garden Hills is the new Director of Communications for BCN. He recently implemented a new BCN web site and Facebook page. Jeff had been authorized to spend as much as $5,000 for this work but it had been accomplished for a little over $3,000. The web site is BuckheadCouncil.org. It includes a MailChimp email list signup page – those not on the email list are encouraged to join it.  Items posted on BCN's Facebook page will, after review, be posted on the BCN page. The web site also has a Twitter section. The web site also has an Events section. Jeff encourages neighborhoods to establish calendars using Google which can be linked to BCN's master calendar.
There is also a Neighborhoods page on the BCN web site which lists all neighborhoods with contact information. Jeff said the best way to make contacts about the web site is using the Contact Us page. A Resources page lists elected officials and supporting non-governmental organizations, such as Livable Buckhead, BCID, etc. There is also a link to the Buckhead Guidebook. There is a public Minutes section which is key word searchable. There is also a password-protected section which includes unedited versions of BCN minutes, which includes personal contact information, etc.
Education
Tom Tidwell of West Paces Northside said there will be a constitutional amendment vote in November on the Opportunity School District legislation. The OSD law, modelled after the New Orleans Recovery District and similar legislation in Memphis, would allow the Governor to take over up to 20 low-performing schools a year. The concept is supported by Republicans. Tom said APS is focused on improving 26 at-risk schools so they won't be taken over.
Transportation
No report.
Development/Infrastructure
No report.
Voting
Tom Tidwell commented on poor voter turnout in a recent special State House 55 election to fill the seat formerly held by Tyrone Brooks. He said that only 2,965 votes were cast out of 36,922 registered voters, an 8% turnout. He said that BCN should focus on turnout in November.
V. Speakers
Major Van Hobbs, Commander, APD Zone 2 Precinct
Major Hobbs noted that he had been the Zone 2 Commander for a little over three years. He said that Zone 2 has seen a reduction in most violent crime categories. He said the only exception was sexual assaults, a number of which occurred in previous years. He said he was sure we were interested in the three home invasions that had occurred this year in the Zone 2 area. (A fourth at the Darlington Apartments was drug-related.) He said he can't say much that hasn't already been reported in the newspaper. The crimes are being handled in the federal system and Hobbs was the only one in his precinct that had knowledge of what was being done and he wasn't talking – he said he doesn't look good in stripes. He said two arrests have been made and more progress is expected but said he wanted no questions on the topic.
He said cars are being broken into all over the city, but Zone 2's count for the year is down while the other zones are up. Larceny/shoplifting is up for the year. Auto thefts are up—35% of the cars stolen in the zone had keys in them. Overall, Zone 2 is up about 4% (about 100 crimes or a crime a day) for the year.
He said their tag reader is operational, on a moving vehicle, recording and checking all the vehicles it encounters. It alerts the officer driving to expired tags, no insurance, stolen car, etc. Hobbs said they had arrested four individuals this week involving stolen cars.
Hobbs also announced that he had shifted policy to permit off-duty Zone 2 officers employed for security patrols in the zone to use Zone 2 police cars, if available. This will generate a wider public perception of police presence in the zone and will also facilitate stopping suspects. He also said that he has unmarked cars on patrol with plain-clothed officers doing patrols.
Q&A – Cameras In response to questions, Hobbs said Lt. Browning has about 5,000 cameras feeding into her Video Integration Center (VIC), mostly in the Downtown/Midtown area. As for camera placement, Hobbs prefers cameras to be located at ingress/egress locations. Most criminals in Zone 2 come from other areas. He says if a carjacking happens around Lenox Mall it is likely to leave the area via Lenox Road to southbound GA 400. If something happens near the Huff Road/Marietta Blvd. area, most likely they will take James Jackson Parkway, Hollywood, Bolton Road and head south toward Zone 1. That's why he stations his traffic units in those areas. He wants more cameras in those areas. Will cameras stop crime? No. Will they help detect it? Yes. Will they help solve it? Yes. And in some cases they will deter it. In Buckhead, cameras in Tuxedo Park and along Peachtree are working. Lenox Square and Phipps Plaza are about to connect their cameras to the system. [In the Sept 1, CAC meeting the cameras were reported to be connected to the VIC.] He said Lenox/Phipps is installing tag readers at the malls' exits/entrances.
Elizabeth Morrow, Community Prosecutor Zone 2, Fulton GA's Office
In introducing Morrow, Hobbs said that Morrow had an excellent track record in getting Zone 2 suspects he had brought to her attention locked up without bond.
She said her role is to prosecute crimes which occur in the zone, particularly repe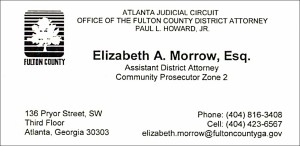 at offenders. She said a big part of her job is to be a liaison between the DA's office and the community. She provided her business card and encouraged neighborhoods to contact her for a list of crimes she is currently prosecuting in their area and to provide her with recommendations about sentences. She said she works closely with the Court Watch Program which helps arrange citizen attendance in court hearings. When the community shows up it conveys to the judge that the community is concerned about the impact of the suspect on their area.
She said her office also works to secure needed legislation. For example, she is trying to require that certain types of businesses have video surveillance. Video evidence is often very influential in getting defendants to enter into a plea deal.
Felicia Moore, City Council, District 9
Felicia Moore updated the attendees on the status of her efforts to improve the Moore's Mill Shopping Center, which has been an issue for at least a decade. She said Edens, a South Carolina-based development company, is finalizing their agreements with planned anchor tenant Publix. She had been concerned about their reaction to the delay in extending Moore's Mill Road. Edens also continues to work with potential developers on the residential housing component of the project.
Moore is now optimistic that the development will take place and the issue now is the road extension work, which involves about 300 yards of work. Several funding sources have been considered for the road work to complement to $500,000 already available.
• The first approach was to get Federal funding for both the Moore's Mill extension and the continuation of Adams Drive to Marietta Blvd. Federal highway funding is stuck in Congress.
• The second option was Invest Atlanta, since they deal with tax allocation districts and the site of this work is in a tax allocation district. Possibly competing needs for the funding in the tax allocation district led to an impasse on that approach. A scaled-down project was suggested while waiting for Federal funding but Moore said no, that approach wouldn't address the traffic backups which plague the area.
• Then Moore sought to secure funding through transportation impact fees. Moore sought $800,000 in impact fees, which would require that the project be listed in the CDP (Comprehensive Development Plan) and the CIE (Capital Improvement Element). The City Council would need to approve those listings and submit the proposal to the Atlanta Regional Commission (ARC) for approval. In the process of approving this project, the City Council decided to earmark remaining impact fees to the various Council Districts, an action that Moore, and some others on the Council opposed. The ordinance caused a big problem because while the $800,000 had been generated by projects inside district 9 and nearby parts of District 8, the allocation to the various other council districts took funds far from where they had been generated – some thought that allocation was likely a violation of state law and, in any case, didn't meet the CDP/CIE listing requirements. Two weeks later, the allocation was repealed, but the CDP/CIE portion went on to ARC and is expected to be approved in September. So the $800,000 is still unavailable but Moore plans to try again when the ARC acts. She also will seek Council approval for Edens to build the road improvements.
• A final funding possibility is the Renew Atlanta Bond issue, approved in March. But she prefers the impact fee approach.
Moore expects demolition for the shopping center project to start around the first of the year. The work on Adams Drive will likely need to wait for Federal funding. Reading between the lines, there is a great deal of friction between some city leaders and Moore which is unnecessarily impacting the residents and businesses in the 9th District.
Moore indicated that a City Council work session on impact fees would be held in the near future. In response to interest by BCN attendees, she said she would make sure neighborhood representatives were aware of the sessions so they could attend.
VI. Community Concerns/New Business/Announcements
Buckhead Rotary, Sept. 21 at Maggiano's, Speaker: Dennis Lockhart, President, Atlanta Federal Reserve
VII. Next Meeting September 10, 2015
IX. Adjourn – The meeting adjourned at about 8:15 PM.
Note: The opinions expressed by the speakers and individual neighborhood representatives in these minutes do not necessarily represent those of BCN or its member neighborhoods.