BCN Member Version – Login Required (PDF)
I.  Welcome & Introductions
Tom Tidwell called the meeting to order at about 6:45 PM. A quorum was not present.
II. Approval of Minutes
Minutes for the November meeting were approved.
III. Admit New Member Neighborhoods
No neighborhoods asked to be considered for BCN membership
IV. BCN Standing Committees
Communications – No report
Education – No report
Development/Infrastructure – No report
Transportation – Gordon Certain presented the results of two surveys conducted by BCN.
Peachtree Road Streetcar Survey. Survey respondents numbered 161, about half of which were from North Buckhead, where the survey originally started. The remainder was from other parts of Buckhead. Results were summarized by ZIP Code, as shown below. The complete survey report is available at www.nbca.org/sc. The issues were whether residents supported the future extension of a rail-based streetcar route along Peachtree Road to the Buckhead MARTA station and beyond at a cost of $376 million and whether to continue to set up a city organization mirroring MARTA to operate the streetcar system. The results were 84% opposition to the Peachtree streetcar route and 80% opposition to the MARTA-mirroring organization.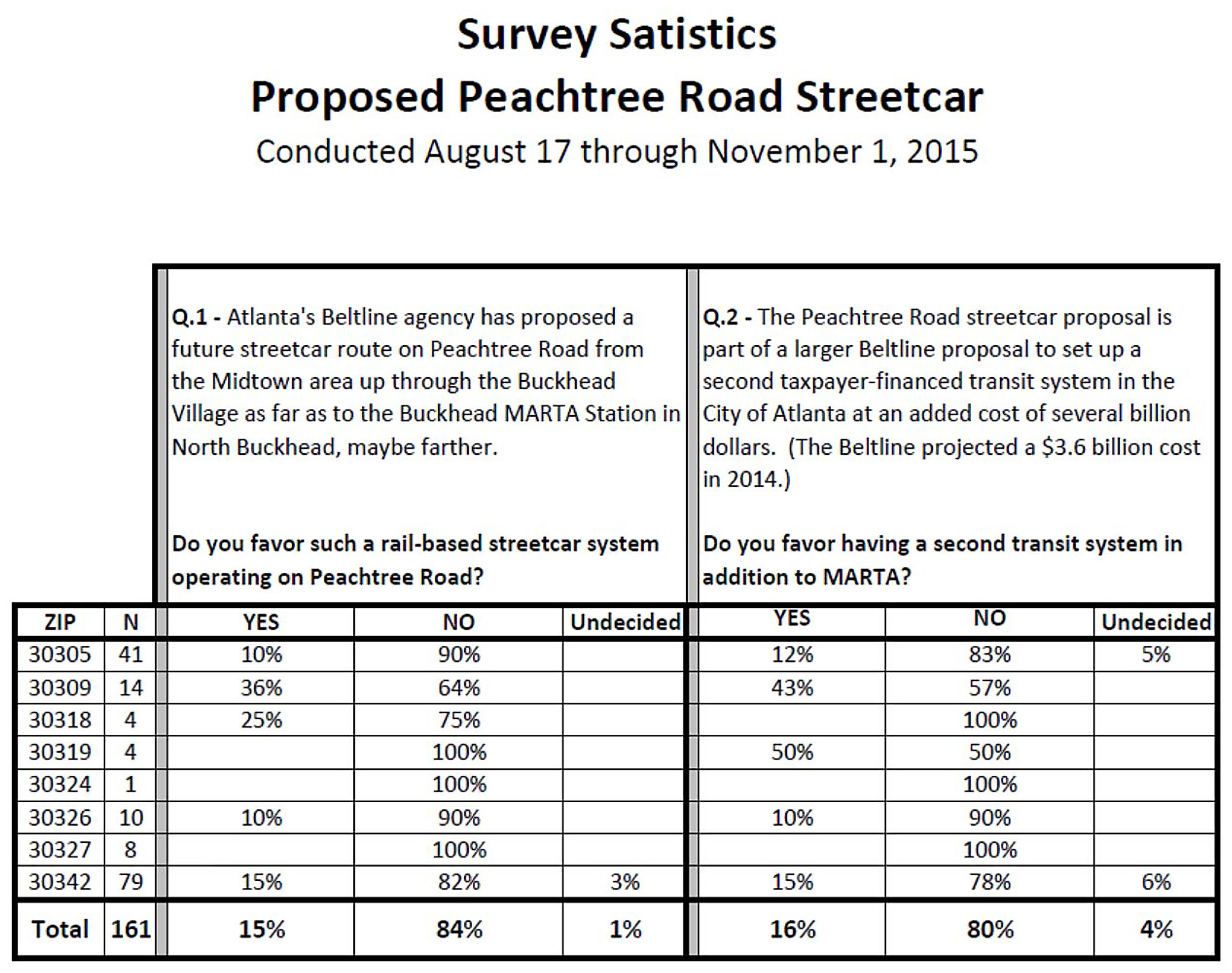 Following the publication of BCN's report, the Atlanta City Council voted unanimously to remove the Peachtree Road route from the Atlanta Streetcar plan which it then approved.
Peachtree Road Restriping Survey
The second survey involved GDOT's recent proposal to restripe Peachtree Road from I-85 to Pharr Road.  A very strong survey response was collected in a short period.  BCN reps decided in the November 14 meeting to have their residents join the original North Buckhead survey.  In a three-day period about one thousand additional responses were captured, increasing total responses to 1,084.  Results of this BCN survey were delivered to GDOT on the fourth day.
Like the Streetcar survey, responses were reported by ZIP Code, but additional reports were made isolating opinions of those who often ride bikes, and other similar factors.  While GDOT intended its proposal to be a single unified plan, for purposes of understanding what aspects of the plan were important and why, the BCN survey asked for opinions separately for the two configurations.  That plan provided two configurations for Peachtree:
The northern segment from Pharr Road to Peachtree Battle Avenue to I-85 with five through lanes (two northbound, three southbound), a central two-way left turn lane (TWLTL), and no bike lanes.  Overall, responses were balanced for and against the northern segment with 43% for, 43% against and 14% undecided.
The southern segment from Peachtree Battle Avenue to Deering Road (I-85) with four through lanes (two northbound, two southbound), a central two-way left turn lane (TWLTL), and two 4-foot bike lanes.  Overall, responses were against the southern segment with 14% for, 83% against and 3% undecided.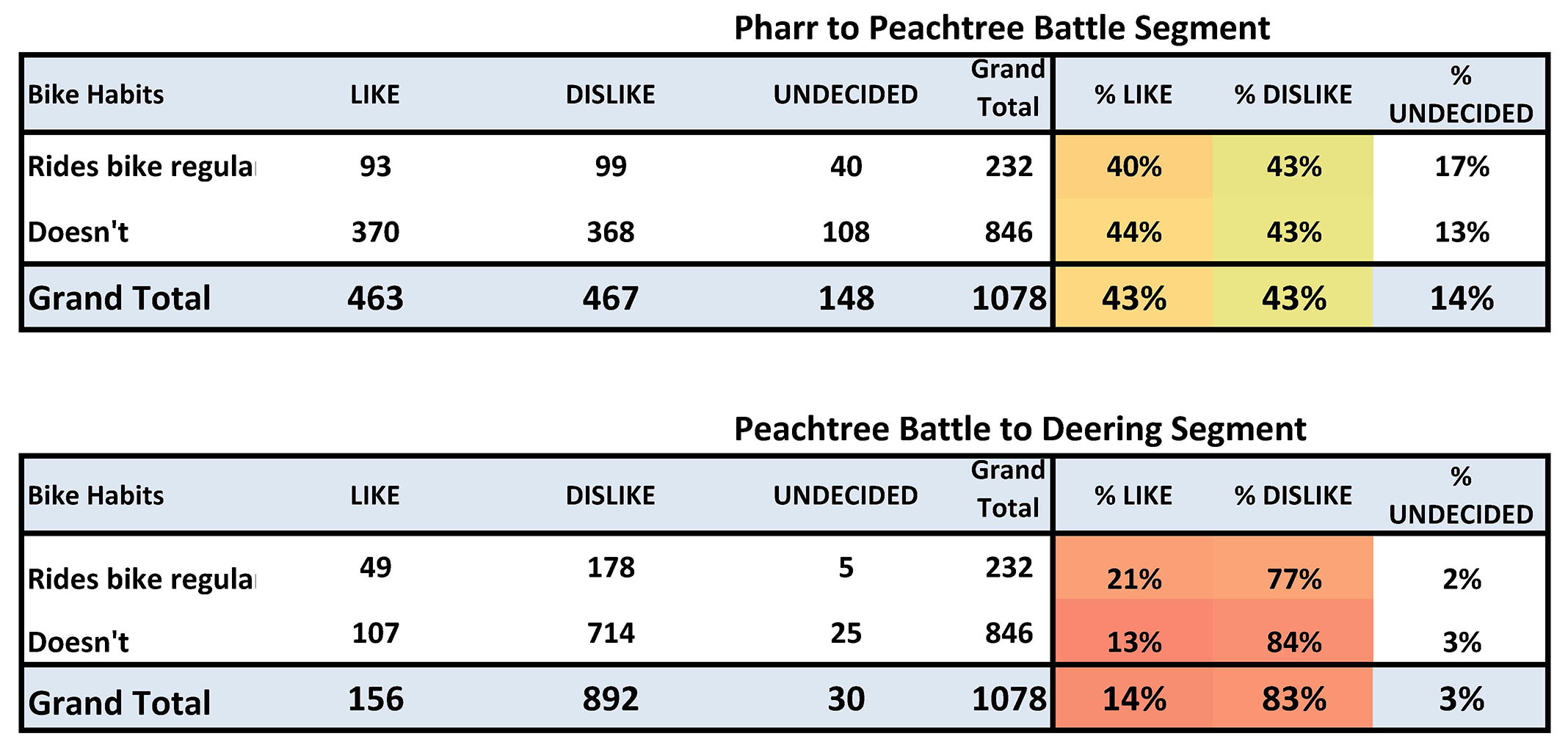 Probing deeper, the survey report explored the opinions of those who said they rode bikes regularly versus those who don't. That view, Figure 2 (above), showed slight differences.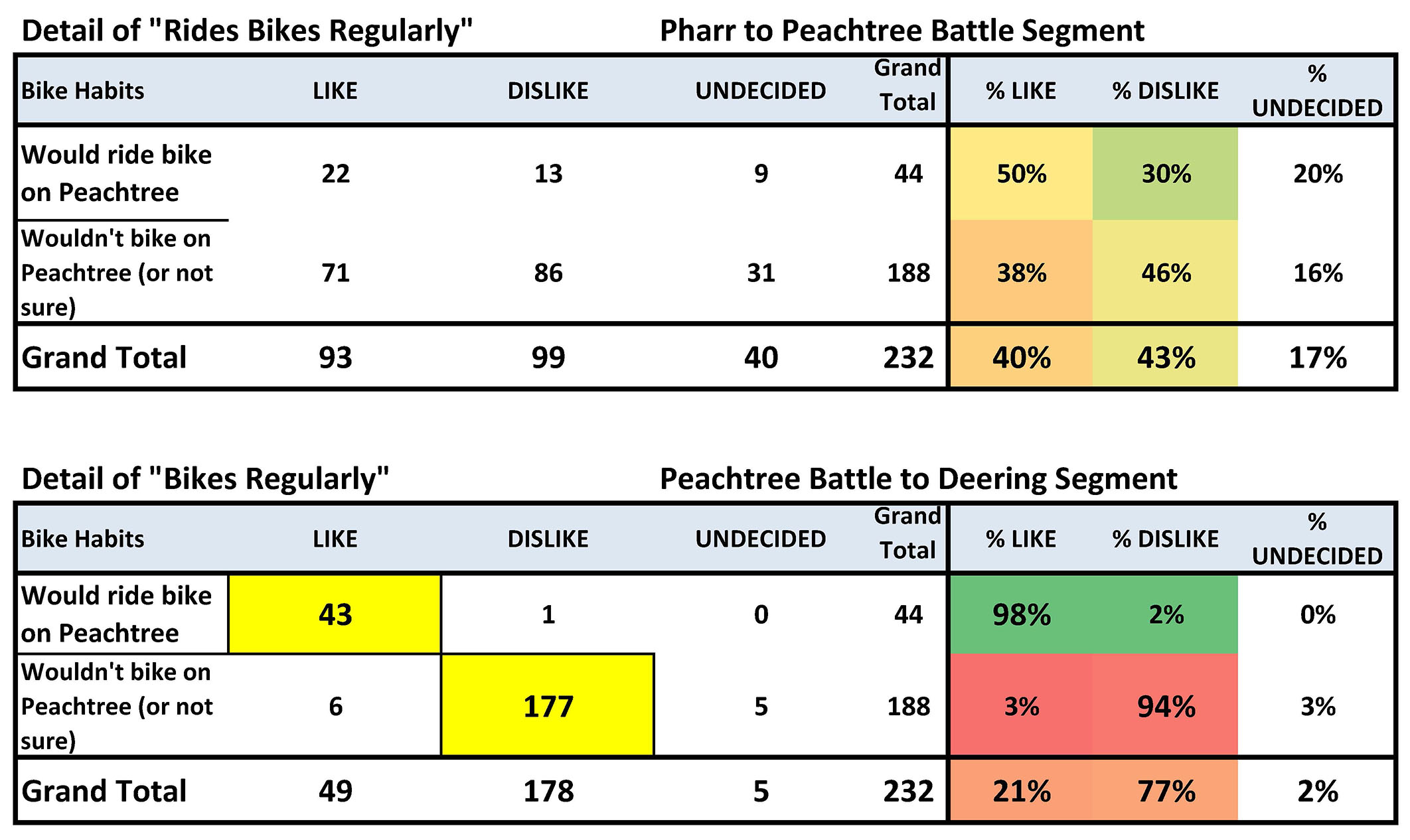 Probing even deeper, Figure 3 (above), we finally get clarity. The 80% of regular bike riders who said they were unwilling to ride on Peachtree strongly opposed GDOT's bike lanes. The remaining fraction of bike riders brave enough to ride on Peachtree Road seem to love GDOT's proposed bike lanes. The conclusion is that if GDOT wants to please the great majority of bike riders, don't put bike lanes on Peachtree Road. This suggests that alternative bike routes paralleling Peachtree Road (such as via Dellwood Drive) might be considered. We understand that GDOT has abandoned this most recent proposal based on strong public sentiment such as shown in BCN's survey.
The entire BCN survey report is available at www.nbca.org/Survey1115.htm.
V. BCN Elections and 2016 Goals
Regarding BCN elections, Tom Tidwell reviewed the requirements.  BCN's Bylaws require that its board elect a chairman, secretary and treasurer.  In addition, it may have a vice chairman and communications officer.  It was agreed that the slate of candidates would be determined at this meeting and would be voted online via an email announcement.  No non-incumbents volunteered to run for these or other BCN offices.  The proposed slate, endorsed at this meeting, was as follows.
Chair – Tom Tidwell (incumbent)
Vice Chair – Ron Grunwald (incumbent)
Secretary – Gordon Certain (incumbent)
Treasurer – Debra Wathen (incumbent)
Communications – Jeff Clark (incumbent)
Last year BCN started the year with an Executive Committee session to discuss goals.  That meeting resulted in the creation of committees (Transportation, Education, and so forth).  The one goal set then that was accomplished was communications – we have upgraded the email system, web site and Facebook page.  Tom encouraged representatives to "get all your people on Facebook".  Tom felt like we made some impact in 2015.  Elected officials listened to BCN regarding its position on the proposed Moores Mill extension and on our streetcar and Peachtree restriping surveys.
Tom said that in January he would ask the BCN board to formalize the way it takes policy positions.  We need to get neighborhoods whose representatives didn't attend a board meeting express their thoughts on policy positions.  The formalized method will involve an email announcement of the issue in advance of the board meeting, so neighborhood residents and be informed and the issue can be discussed and a consensus be developed.  Gordon Certain suggested that the email notification period should be a month long since the various neighborhood associations meet at different times during the month.
Tom also outlined the need for legislative outreach with one or two sessions during 2016.  It was suggested that a legislative package, much like the city prepares each year, be developed by BCN and provided to the city before they complete theirs.
Citing the efforts of Gordon Certain and Jeff Clark as examples, Tom encouraged others in BCN to get involved beyond just sending information out to their neighborhood associations.  BCN needs, for instance, to increase our interactions with our elected representatives and government officials, getting them to know who we are.  If BCN participants want to volunteer, there is room for them.
VI.  Community Concerns/New Business/Announcements
No report

VII. Next Meeting
February 11, 2015
VIII. Adjourn
The meeting adjourned at about 8:00 PM.
Note: The opinions expressed by the speakers and individual neighborhood representatives in these minutes do not necessarily represent those of BCN or its member neighborhoods.