BCN Member Version – Login Required (PDF)
I. Welcome & Introductions
Tom Tidwell called the meeting to order at about 6:45 PM. A quorum was present.
II. Approval of Minutes
Minutes for the January meeting, with revisions, were approved.
III. Admit New Member Neighborhoods
No neighborhoods asked to be considered for BCN membership.
A BCN Neighborhood Census form was distributed at the meeting.  All BCN neighborhoods are requested to complete the form: BCN Census Form   The form ensures that BCN has contact information for each neighborhood and explicit identification of each neighborhood's BCN representative and alternates.
V. BCN Standing Committee Reports
Communications
– Tom Tidwell handed out a "Draft Proposal to Establish as Position" that he and Jeff Clark had drafted as a formal methodology for BCN to approve public positions. PROCEDURES TO ESTABLISH A FORMAL RESOLUTION – draft. It will be discussed further at the next BCN meeting.
Education
– No report.
Transportation
– Tom Tidwell reported on work commencing at the Northside Parkway/Moores Mill intersection.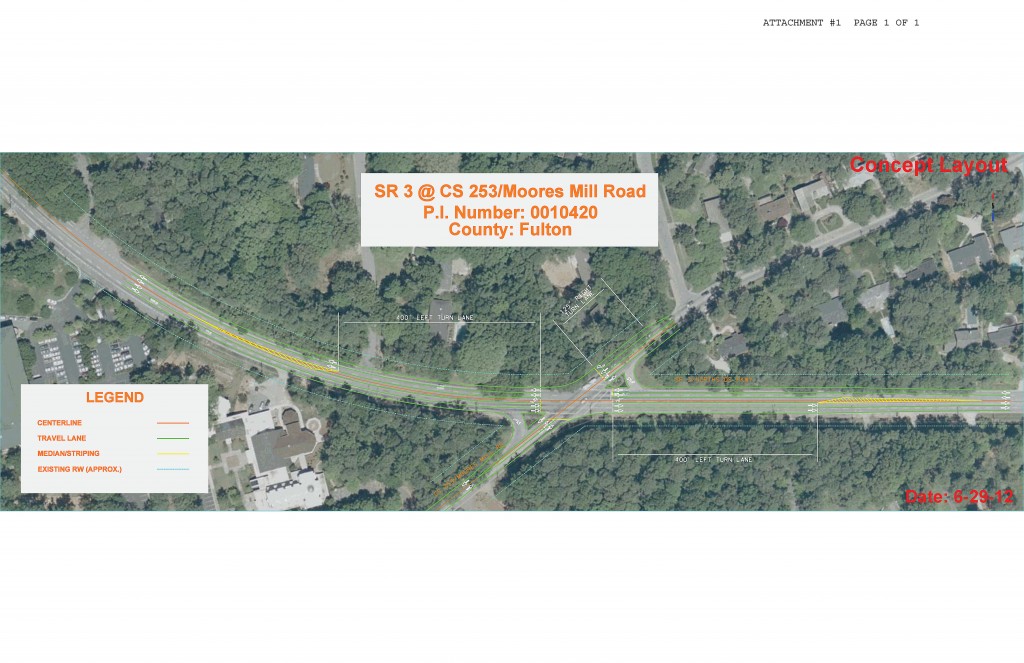 VI. Proposed Legislative Reception
Tom Tidwell discussed the legislative reception we discussed last meeting. It would be an evening happy hour with our elected officials. Tom thinks we need to have at least 50 and hopefully 100 neighborhood residents to commit to participate. He asked for volunteer help in planning this event. It should be a great way for residents to get to know their legislators. The event would happen on a weekday evening in April.
VII. Speakers
Senator Hunter Hill, District 6
Senator Hill is in his second term in the Senate and is Chair of the Veterans, Military and Homeland Security Committee. He is also Vice Chair of the Senate Republican Caucus and is on the Appropriations, Rules, Finance and Judiciary (non-civil) Committees.
Education savings accounts – He sponsored Senate Bill 92 last year, a bill for education savings accounts that would allow individuals whose public school is non-performing to redirect the state funds allocated in that school for that student and use those funds for private school tuition, home schooling, tutoring, etc. That would amount to about $4,500 per student.
Transportation funding – Hunter has been concerned about funding for transportation and infrastructure development due to declining revenues (more fuel-efficient cars, rising healthcare costs). His concerns were alleviated somewhat by passage of HB 170, a tax increase on fuel. He said Governor Deal recently unveiled a plan for how those funds [reportedly $700,000,000 per year] will be invested over the next twenty years.
Religious freedom – Hill also talked about bills getting headlines, such as those dealing with religious freedom and other bills "coming as the result of changing times and the reality that we're dealing with, legally, of cultural shifts in our country." He said that while it is contentious, "it is important to focus on what we are trying to accomplish. I say 'we' because a lot of these bills are being sponsored by Republicans and pushed by Republicans and supported by Republicans." He continued that it is very important that Christian pastors and Christian organizations are not subject to discrimination. He said he believes there is a "legitimate opportunity for those who disagree with the traditional definition of marriage to file suit against a Christian organization". He followed with an example: a pastor deciding he didn't want to marry a same-sex couple being sued – "and that suit could win." On the other hand, he thought that opponents have a legitimate argument that the legislation was premature given that none of these things have been filed. He followed with: "Why wait until those suits are filed?", which he said was the argument of the proponents of the bill. He concluded that the legislation needs to be handled delicately, since nobody should be discriminated against, particularly in the workplace. If RFRA is going to protect churches he said we should also make sure that there is protection for homosexuals, transgender, etc. in terms of their employment.
Commercial utility bill privacy – Another bill involves a city of Atlanta initiative which asks commercial properties in the city to provide their utility bills. Hill is concerned that those bills may be made public with the intent of shaming building owners into making energy efficiency upgrades. His bill allows the city to collect the data, but blocks the City from making it public.
MARTA expansion – He concluded by mentioning a bill that would allow MARTA to pursue voter approval for a ½-cent sales tax increase in Fulton, DeKalb, and Clayton to permit the expansion of MARTA. He thought the expansion was important.
Representative Beth Beskin, District 54
Representative Beskin is in the second year of her first term in office.
Professional license reciprocity – She said that she would provide an update on a variety of bills. The first was a "reciprocity" arrangement passed by the House. When military personnel are transferred to another state, their spouse may run into licensing delays if they are in a licensed profession such as nursing. They might be licensed in the state they moved from but the license isn't recognized in the state of Georgia and under existing procedures, they might not secure the license needed for them to work in their profession until it's time to move to the next state. Under the bill, all professional licensing boards in the state would be incentivized to expedite licensing actions involving military families.
Hope Scholarship – The next bill was one that provides extra credit for those using Hope Scholarships for taking difficult courses. The most popular degree for Hope students is psychology, she said, because the students are so worried they will lose Hope money if they take more difficult science, engineering, or math courses and don't do as well. This is bad because most of the jobs are in technical fields. She said the extra credit is half a grade, so a "B" in a technical course would be an "A-minus" for Hope scoring purposes, helping students graduate with degrees where there are actual employment opportunities.
School budget transparency – Another bill passed in the House involves "budget transparency for school systems". It requires each school district to post spending per student information in a standardized and understandable format.
School sports – Another bill involved school sports, permitting schools belonging to a religiously oriented school organization to play games with schools belonging to another school organization. She said, though a convoluted thought process, the press had identified this legislation as a "religious freedom" bill, which she said, it isn't.
Smartphone glasses prescription app – Another bill involved a smartphone app which supposedly would let the user have the phone look at his/her eyes and print out a "prescription" for corrective lenses/glasses. Optometrists and ophthalmologists were upset, saying the app doesn't do all the necessary diagnostic steps, such as testing for glaucoma, analyze the retina, etc. The bill blocked the use of that app in Georgia to generate prescriptions.
Drink earlier – Another bill that was passed was a "brunch parity" bill, which would effectively permit diners to drink alcohol earlier in the day. The bill aligns permitted drinking times in restaurants to the earlier times permitted in some "special places", such as stadiums.
Urban renewal via tax policy – The next bill she discussed deals with tax policy and population loss in the City of Atlanta. She pointed out the city lost population between 1980 and 2010. Parts of the city, especially Buckhead, are growing; other parts aren't. Last year, she continued, the Legislature passed the opportunity School District bill to deal with chronically failing schools. Beth mapped those underperforming schools in Atlanta (yellow highlight in yellow and red, red only for better schools on the map at the right).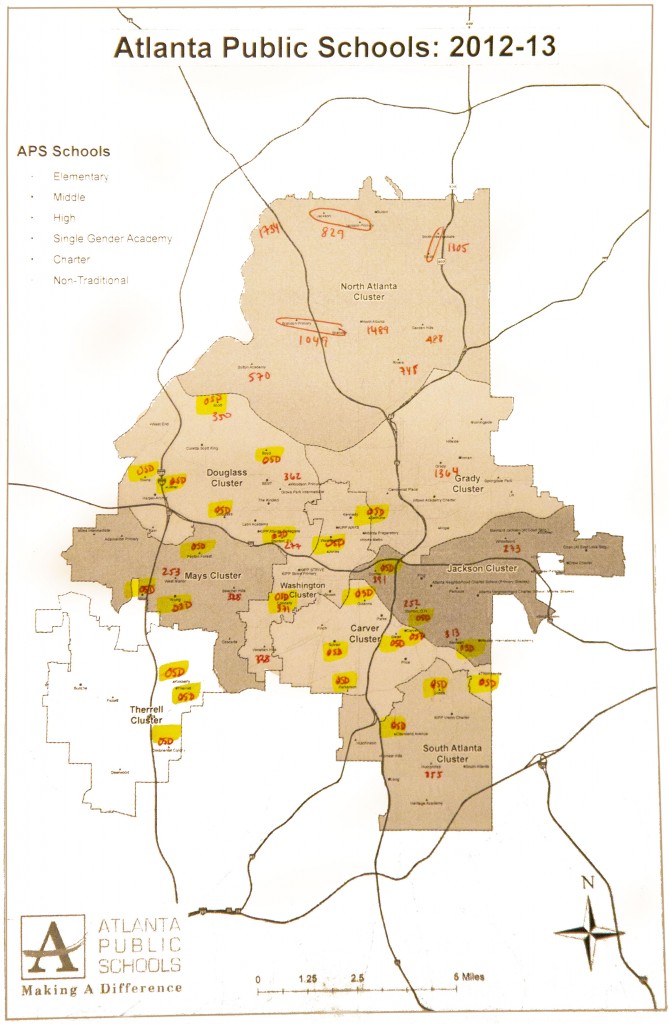 She noted that many of the underperforming schools are also under-enrolled, often with a few hundred students each, while the highly-performing schools had much higher enrollment.
She has two ideas: first is HB740, which she has sponsored, which would provide a state income tax credit (not property tax credit) for anyone who buys and moves into a home near a current underperforming school. The credit would be $15,000, payable $3,000 per year for five years. Those moving in would tend to demand amenities like grocery stores and other things making the area more attractive. It would encourage people to move to south Atlanta and in rural areas it might help to reduce the loss of population.
Senior school tax exemption – She also favors a senior school property tax exemption. She said 20 counties in the Metro Atlanta area have a school property tax exemption for seniors, nine of which have no income caps. She said seniors frequently move to the suburbs upon reaching the age of 62. DeKalb's income cap for school exemptions is "pretty high", about $82,000, with some income exemptions.
Annexation – Beth also talked about City of Atlanta annexations, including one in DeKalb which involves almost 20,000 residents. Unresolved questions include whether the students in the annexed area would continue with DeKalb schools or whether they would switch to APS. Currently, all Atlanta residents use APS schools. She added that the city's administration is pursuing a lawsuit which would permit annexed areas to not be bound to use APS.
She said we need to be careful about whether the taxes paid by the annexed area would include the same tax categories currently paid by all current residents, especially because only those in the annexed area get to vote on the annexation. She thinks we should all be able to vote on a change of this size.
Councilmemeber Mary Norwood, Post 2, At Large
Bankhead Bus Barn – This issue involves a potential huge new school bus facility that may be planned in the extreme northwest of the city that was apparently a result of the APS/Beltline/City of Atlanta agreement. Mary said that when the Mayor had the press conference the City Council was there at the event but had not seen the actual APS/Beltline/City of Atlanta agreement and didn't know about the bus barn issue. The agreement, itself, doesn't say what the use of the property will be, only that it is being transferred to APS. But, apparently, the intension is to set up a school bus facility using the property being transferred. An AHA property site is the property involved. Right now APS has two big school bus facilities: one on Lakewood and the other is on Metropolitan Parkway near 166. From those distant sites APS has to get the buses up here, where the kids are. The concern about this new facility near the Chattahoochee is just about as remote as the existing sites. Worse, having 200 buses coming in on a two-lane roads (like Moores Mill) won't work; nor will putting 200 buses on I-285 at 6:30. Mary believes citizens can help to design more rational new facilities by looking at where our schools are and seeing if there is an abandoned shopping center, or similar under-used property, or, alternatively, use extra land at North Atlanta High School. The point is to store the buses nearer where they will be used. Mary wants our input.
Creek Pollution – This issue involves major recurring sewer spills which have been happening in parts of the city, especially in Memorial Park. She said that when the City did its big sewer system fix, it built a big tunnel connecting Tanyard Creek, Proctor Creek and Clear Creek using a big tunnel. She said the problem was they didn't adequately account for storm water – there's too much water coming into the system. As a result, the City has three CSO (combined sewer overflow) facilities that have been overflowing.
She said the City changed the definition of what a combined sewer overflow is. By law, they can only have four combined sewer overflows at each of these four facilities – that equates to 16 overflow events. She said there were 46 last year. So, in 2014, before they went to get their new water permit, they changed the definition – they now call it a "combined sewer system discharge". That terminology is not in the Clean Water Act. So, she said, they are actually in violation of the Clean Water Act and they're not admitting it. The people near Memorial Park don't care what the city calls it, they want it gone.
Mary introduced an resolution saying within 90 days the administration will come back to the City Council telling what they are going to do to fix it. Mary thinks the fix is going to have to be as dramatic as the Nancy Creek Tunnel. The Utilities Committee unanimously passed the resolution. She said the Proctor Creek Stewardship Council endorsed Mary's resolution. She would like the Buckhead Council of Neighborhoods to do likewise. She brought a sample letter of endorsement for BCN to hopefully use.
Garth Peters handed out pictures to the attendees showing events at Memorial Park. He pointed out that two distinctly different overflow events are happening: the CSO facility overflows and the overflow of a local sewer line.
Sewer MOST – Mary said she will be totally in support of the balloting on the continuation of the 1% sewer tax MOST (Municipal Option Sales Tax) IF they can assure her that the problems with overflows is fixed. She said the administration hasn't said what the $750 million to be raised by the MOST will be used for.
She also wants to know if the City can sue the contractors and engineers who designed the current system which was sold to the public as fixing all of our sewer problems.
Bernie Tokars, GRTA
Bernie was a candidate for the House of Representatives, District 54. He currently holds no elected office but serves on a number of transportation-related committees, including GRTA (the Georgia Regional Transportation Authority).
Local transportation funding – He started by recounting last year's HB170 which reconfigured how we fund transportation in the state. The TSPLOST law was changed so smaller regions (counties) could enact transportation-related sales taxes. Approval of such new taxes requires the agreement of all the county's cities on a project list to be followed by approval by the voters to get a full one-cent tax. If only a majority of the cities agreed, the maximum tax is ¾ cent. Those taxes may only be approved for five years at a time, which precludes their use in funding long term construction bonds needed for transit improvements. Fulton, which has fourteen municipalities and some unincorporated areas, is working on such a list. A bill has been introduced for Fulton, DeKalb and Clayton allowing a transit-oriented tax, up to 1%, for 40 years. At 1 cent, such a tax could fund $8 billion in transit improvements. Negotiations are under way between Fulton and MARTA to split a 1 cent tax between roads and transit. Fulton's cities are meeting to develop their lists. That TSPLOST vote, whatever it ends up involving, would be part of the November ballot. APS also plans to renew its 1 cent sales tax, a vote for which will happen in May. Incidentally, the state Constitution limits total sales taxes to 10 cents per dollar of sales.
Legislation is also being considered affecting MARTA, ensuring that their transit-oriented developments follow city land use requirements. It would also permit MARTA to spend money on other projects such as a possible Beltline transit route or the streetcar.
VI. Community Concerns/New Business/Announcements
No report
VII. Next Meeting March 10, 2016
IX. Adjourn – The meeting adjourned at about 8:00 PM.