I. Welcome & Introductions
Chair Tom Tidwell called the meeting to order at about 6:45 PM.  A quorum was present.
II. Admit New Member Neighborhoods
No new neighborhoods asked to be admitted as BCN member neighborhoods.
III.  Update on Buckhead CID Projects
Darion Dunn said the Buckhead Community Improvement District (BCID) was founded in 1999.  He explained that a CID is a type of government since it has the ability to levy taxes on commercial properties within its boundaries.  The taxes raised are used to leverage state and local tax allocations. To date, Darion said the BCID had leveraged about $100 million.  The BCID is authorized to perform studies outside of its boundaries, but can only spend its funds within its boundaries.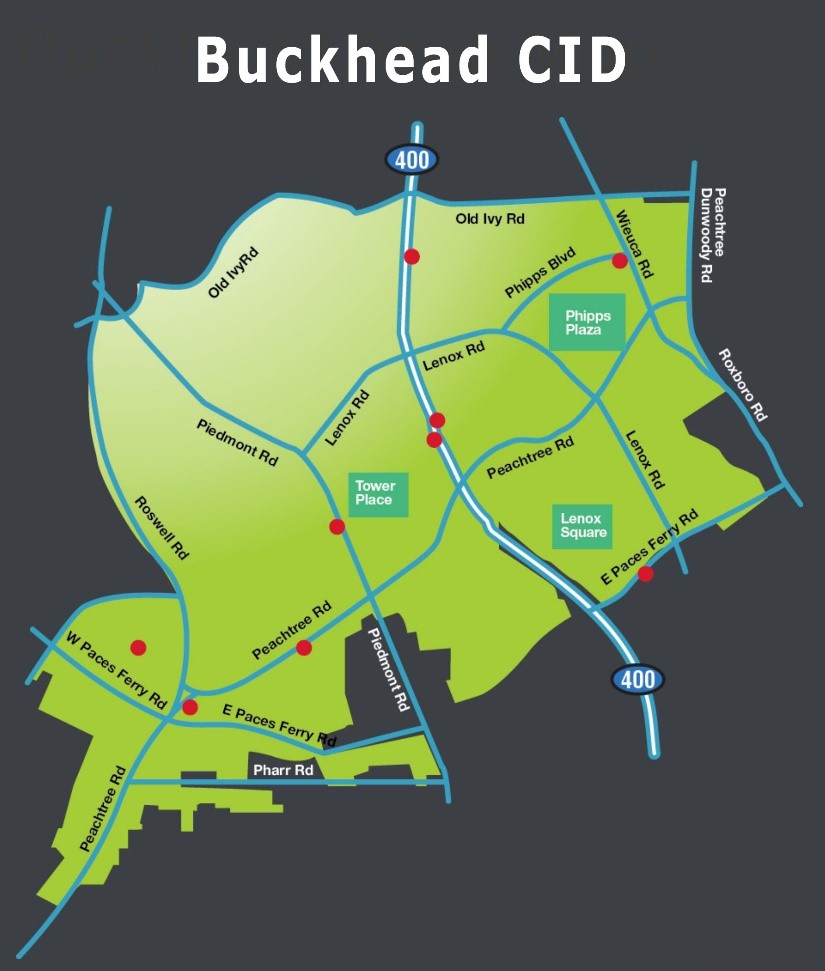 Darion and Tony then provided status updates on various BCID projects.  Darion said their first project, the "Peachtree Corridor" project, involved installing attractively vegetated medians, landscaped shoulders, pedestrian lighting, street benches, and related improvements.  They are working on the third and fourth phases of that project.  The first and second phases were completed in 2007 and 2012, respectively, involved Peachtree Road between Piedmont Road and Peachtree Dunwoody Road.
Phase Three, now in the design phase, involves Peachtree Road between Maple Drive and Shadowlawn Avenue.  The same kind of improvements are planned as in earlier phases. Phase Four is larger, extending from Shadowlawn to Sheridan Drive, at BCID's southern border.  Insight was not provided about whether Phase Four improvements would be different or the same as previous phases.
Their next project, the Piedmont Road Widening Project, is now in the design phase.  Piedmont, which is extremely congested today, will be widened from five lanes to seven lanes between Peachtree and Lenox Road. Some of the lanes will be narrower to help calm traffic.  The inside lanes will be ten feet wide while the outer lanes, twelve feet wide, will accommodate truck deliveries.  They also plan to extend Lenox's multi-use trail along the west side of Piedmont Road to Peachtree.
Tony Peters outlined the Habersham/Roswell/Piedmont study project which will consider improvements needed for the triangular area bounded by Habersham Road, Piedmont Road, and Roswell Road intersections. The area is not within BCID's boundaries, but its impact is significant enough for them to study possible improvements.  A public meeting was held shortly after this BCN meeting to identify concerns of nearby neighborhoods and to solicit suggestions on how to address those concerns.
Darion then discussed the Phipps/Wieuca Roundabout plan.  He said that they have been in concept analysis mode on the project for about 18 months.  They have worked to develop an appropriate design concept, given that the area which transitions from a large single-family neighborhood to commercial.  He said the roundabout should help safety, mitigate traffic congestion, facilitate pedestrians, and have an element of beautification.  Public meetings will be held in early 2019.  Earlier meetings in 2017 indicated added outreach to neighbors of the area was needed and is underway.  After additional dialog about the roundabout's configuration is accomplished, the project will be turned over to the engineers and that design phase should take about a year.  Then construction would start.
The East Paces Ferry Road Complete Street project is nearly complete.  The street has generally been reduced from two lanes to one in each direction.  The lanes given up have been converted to support pedestrians and bicyclers on a 12-foot multi-use path that connects on the west end to the Gordon Bynum Bridge over GA400 and on the east to the bike trails along Roxboro Road.  Work on this project should be completed before year end.
Tony described the Lenox Road at Lenox Square boardwalk which will provide multi-use bike/pedestrian access from Peachtree Road south to the East Paces Ferry Road area along the edge of Lenox's parking lots. This project should be complete in several years.  A similar project is being planned at the Lenox Road/GA400 interchange. Several goals have been set for that area: figure out a safe way to get pedestrians across GA400, figure out how to make the interchange a welcoming gateway to Buckhead.  They are also exploring the possibility of another GA400 interchange at Lenox Square.
Darion talked about a housing study being done jointly by BCID and Livable Buckhead.  Almost everything BCID does involves traffic.  The question is, why do we have so much traffic?  One reason is that over 90% of the workers in Buckhead live elsewhere.  Housing is being built but not all income ranges are being accommodated.  They are looking at solutions to that problem and will share their findings with developers.
Last, Darion talked about the Park Over 400 which is planned to span over much of GA400 between Peachtree and Lenox Roads.  BCID currently has a survey team working in that area.  Their work should be done in six to nine months.  The next phase is design and, after that, construction.  The park would provide a large and spectacular public gathering space.
Gordon Certain said that better communication with neighborhoods is needed.  He noted that it was the North Buckhead Civic Association (NBCA) that went to BCID in early 2015, concerned that the Wieuca/Phipps intersection (site of the currently proposed roundabout) was destined to have increasing congestion problems that weren't addressed by BCID's plans.  In response, the BCID assembled an inclusive neighborhood/business/church stakeholders' committee whose feedback resulted in the roundabout concept. Two years later, a consulting firm's roundabout plan was publicly presented in early 2017 without any further BCID consultation with NBCA.  NBCA opposed that plan because of several deficiencies.  Now, after almost two more years have elapsed, another (better) roundabout plan has been developed by consultants and presented to the city without any involvement of NBCA even though BCID's offices are inside North Buckhead and the roundabout site is too.  Gordon stressed that better communication is needed.  He agreed that Wieuca/Phipps congestion problem wasn't a BCID priority until the neighborhood pointed it out and said that kind of interaction is very important since they get important insights from neighborhood residents who have to deal with Buckhead traffic every day.  Darion responded that BCID is working with the city to improve communications.
In response to a question about synchronizing traffic signals, Darion provided insight into a significant joint GDOT/City traffic management project which was publicly announced the day after this BCN meeting.  The city plans to equip traffic signals at about 40 Buckhead intersections with traffic sensors (not just cameras) and with adaptive traffic signal controls to react to and manage shifting traffic flow patterns and events.  This high-tech project is being implemented only in Buckhead.  Based on the experience in Buckhead, decisions will be made on whether to deploy this technology in other parts of the city.  He said that the equipment will be installed over the next three months and should be operational within a year.
IV.  Councilmember Michael Bond – Update on The Gulch Development
Tom Tidwell summarized the events related to the controversial "Gulch" project leading to the City Council's controversial approval of the project earlier in the week.  Tom had asked several City Council members who opposed the project to attend this BCN meeting to provide a balanced pro/con discussion.  However, the only City Council member at the meeting was Michael Bond, a Gulch proponent.
City Council member Michael Bond outlined the Gulch project in Downtown Atlanta, noting that it included not only the Gulch site itself but also involves the larger Westside Tax Allocation District, a 1996 TAD.  A portion of the funds generated by projects in that district is earmarked to improvements within the district.
Bond went through the history of the site which had been Atlanta's train station at one time.  After the station was torn down in the 1970s, several iterations of replacement plans as a multi-modal transit center were considered but none secured needed support.
Recently, a complex series of proposals, disagreements, and negotiations which are much too complex to fully list here have occurred.  Some highlights include the following:  In an unprecedented action, the state has agreed to share a portion of state sales tax revenues generated at the site if a satisfactory redevelopment plan was completed.  CIM, a California-based developer, has made a redevelopment proposal for the Gulch.  Their 600-page proposal was considered by the City Council.  Part of the plan was to use sales tax money to elevate the site by about 40 feet with a platform to bring the developable area up to the same grade as nearby Spring Street.  There were concerns on the City Council about the bond indebtedness the project could involve.  Bond said these concerns were overcome.
Part of the CIM proposal was various contributions, mainly to the Westside Tax Allocation District.  Among them were a $28 million to affordable housing for the Westside TAD area, $12 million to the city, and the construction of new police precinct and fire stations for the area.  As part of the deal, the city would issue $40 million in bonds.
The plan includes incentives for CIM to build as much as they can and as quickly as they can before the Westside TAD needs to be renewed in 2038. CIM plans to build residential and office developments as well as 200 units of affordable housing.  A provision was made in the plan to ensure that nothing done in the development would preclude a future multi-modal transit initiative on the Gulch site.
In response to a question about the Gulch's impact on existing transportation resources, Bond said the Gulch site will be served by several nearby MARTA rail stations and the developer will be responsible for building and maintaining roads built on the gulch site.  He said the site was close to both I-20 and I-85 and was also close to Northside Drive.  He said it was an ideal site.
Wonder how a Tax Allocation District works? Clck Here for More Info
Tom Tidwell asked Bond's reaction to Dr. Meria Carstarphen's complaint at the October BCN that TADs, such as the one the Gulch will use, hurt Atlanta Public School's (APS) ability to collect needed tax revenues.  He asked, do the modifications which were made during negotiations leading to the approval of the Gulch proposal address her concerns?  Bond said he was not particularly sympathetic with Carstarphen's argument.  He then made protracted and largely negative comments about APS, questioning what he saw as their bloated bureaucracy.  He suggested that trimming their bloat might help more than opposing TADs.  He then suggested that many of the problems that Buckhead residents complain about would go away if there were more attractive tax allocation district sites such as Atlantic Station that would draw development attention away from Buckhead.  It was not immediately obvious how that would address Buckhead's existing problems.
Most significantly, Bond indicated that APS's questions and concerns about the Gulch project plan during negotiations caused Gulch proponents to trim the duration of the proposed agreements with CIM from 30 years in duration to 20.  That reduction significantly reduced projected debt levels of the project and also cut the proceeds which might accrue to residents of the Westside TAD.
Attendee Nancy Meister, Buckhead's representative on the Atlanta Board of Education, spoke about several disagreements she had with Bond's comments.  She observed that Atlanta had exceeded the 10% state law limit on the amount of the tax digest involved in TADs.  While it is not illegal to exceed that limit, the law precludes the city from establishing any new TADs while it is over the 10% limit.  But, as the percentage goes up over 10% it increasingly strains APS' ability to provide services to new TAD residents whose property tax payments that go to retire the TAD's indebtedness, those dollars don't get to APS to help them pay the expenses of educating the children of new TAD residents until the TAD expires.  Then, years in the future, increased tax revenues begin to flow.
Tom Tidwell also observed that there are plenty of worthy places in Atlanta, such as Auburn Avenue, that need redevelopment and would generate more economic benefits.  So, why the Gulch?  Bond said if you ask people what the business of Atlanta is, they wouldn't know.  On the other hand, most know that the business of New York is Wall Street. For Atlanta, its business is conventions and tourism. Bond said the Gulch project is needed because it will help Atlanta with its business.
While it wasn't specifically mentioned during the meeting, there may be another key reason why the Gulch was pursued and lots of other worthwhile sites like Auburn Avenue were skipped.  This kind of redevelopment needs the sponsorship of a TAD to be successful.  The Gulch already has the Westside TAD and doesn't need a new TAD.  So even with its extraordinary costs, such as the $300 to $500 million coming from the state money mentioned by Bonds to elevate the site by 40 feet to make the land buildable, the key factor helping the Gulch may be simply that it had a TAD. Since Atlanta is already over the 10% legal limit, no other area could get a TAD.
A questioner asked, with the public perception already being that the project was being rushed through, why was there such an extraordinary last-minute effort to approve it in that noteworthy late-night Council session?  Bond said he couldn't explain everything that happened and that there were various reasons but observed that with the new Legislature convening, there was concern that they might cancel their offer to fund part of the project or otherwise encumber or cut that funding.  Concerns like that led them to a quick approval vote.
V. Community Concerns / New Business/ Announcements
Tom Tidwell reminded attendees that there would be no December meeting.  He also said that the January meeting was BCN's Annual Meeting with the election of officers for 2019.
Tom said he had served for five years and did not plan to run again.  Vice Chair Jeff Clark had previously announced that he would not run for BCN office.  Tom hoped that someone would be willing to run for BCN Chairman so our organization could continue operating and serving Buckhead's neighborhoods.
VI. Next Meeting
Thursday, January 10, 2019 (No December meeting)
VII. Adjourn
The meeting adjourned at about 8:30 PM.