BCN Member Version – Login Required (PDF)
I.  Welcome & Introductions
Tom Tidwell called the meeting to order at about 6:45 PM
II. Approval of Minutes
Minutes for the October meeting were approved.
III. Admit New Member Neighborhoods
No neighborhoods asked to be considered for BCN membership
IV. BCN Standing Committees
Communications – Tom Tidwell reminded
Education – No report
Development/Infrastructure – No report
Transportation – A number of transportation issues were considered.
GDOT Peachtree Road – Gordon Certain reported about a survey his neighborhood association was asking residents to take to determine how they felt about GDOT's proposed lane striping changes for Peachtree Road.  The results of this survey will be shared with GDOT on November 16.  Gordon urged other BCN neighborhoods to join in asking their residents also to take the survey.  The respondents will be identifiable by street name and ZIP code, so geographical similarities and differences can be reported.  He handed out information about how the survey can be accessed and how the results will be made available.  [The response to this invitation to other BCN neighborhoods was amazing.  About 1,000 additional responses from residents throughout Buckhead were submitted in just three days!]
At the end of the presentation by Becky Katz discussed below, BCN members considered whether  the BCN should take a position on GDOT's proposal for bike lanes on Peachtree Road. Some neighborhoods strongly supported such a motion; other neighborhoods were not sure how their residents felt and opposed the idea.  No consensus was reached.
Peachtree Road Streetcar – Gordon reported on results of the streetcar survey many BCN neighborhoods joined after the October BCN meeting.  [See summary, next page.] The responses of 161 Buckhead residents are summarized on the next page.  More than four out of five opposed streetcar operations on Peachtree Road.  The complete survey report is available at the North Buckhead web site at www.nbca.org/sc.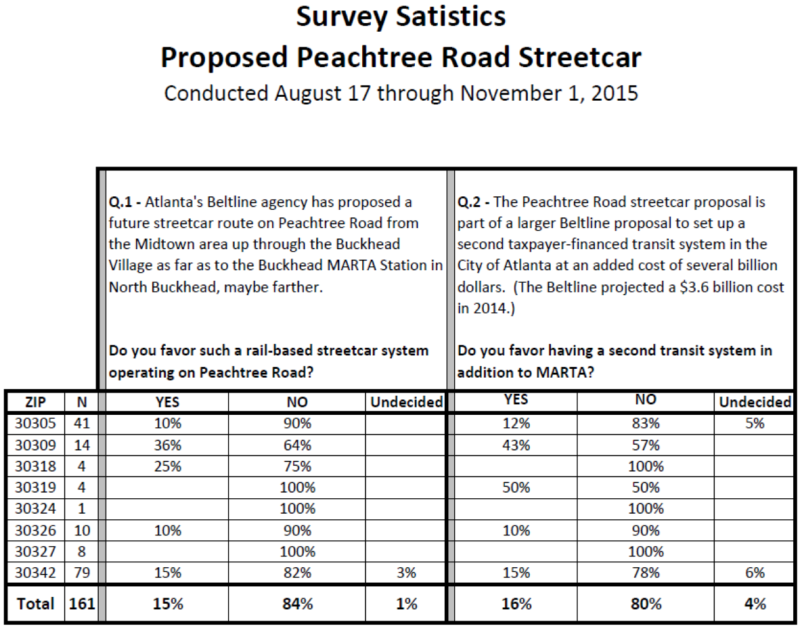 Moores Mill Road Extension – A major topic was the extension of Moores Mill Road from Bolton Road to Adams Drive to relieve congestion and support the construction of a Publix store in that area.  This was the topic of a recent presentation by Council Member Felicia Moore at a recent BCN meeting.  Councilmember Yolanda Adrean had committed $400,000 in District 8 transportation fees to match a similar amount from Felicia's District 9 to support that new road.  Mayor Reed had vetoed that action.  This area is just outside Buckhead's boundaries, but is of interest for a variety of reasons.  This area has no grocery store, so some residents regularly travel to Cobb County for groceries.  With a grocery store and improved transportation connectivity, property values are expected to soar, helping city coffers and strengthening the area.  Much late-breaking news was discussed including Mayor Reed's correspondence that afternoon with three meeting participants.  Mayor Reed said he vetoed the use of impact fees because federal funds had been designated for the project, back in May.  While Mayor Reed knew about it back in May, the City Council was not made aware of it while they struggled, dealing with how to fund the road extension.  Many concerns were brought up:  should the Mayor's veto be overturned by Council, was the federal money really there, would its use cause unacceptable delays on the project because city departments and contractors would be required to do the work, would matching funds be available, if the federal money was delayed could impact fees be used now and be replenished later when federal money became available?   Answers were not always clear.  In the end, BCN passed a resolution that Tom Tidwell would write the following letter on behalf of BCN:
Dear City Council Members,
            I am writing on behalf of The Buckhead Council of Neighborhoods (BCN) to encourage each of you to vote to override the Mayor's veto of a city ordinance that would allow the use of approximately $800,000 in impact fees to fund the completion of the Moores Mill extension, or alternatively, to pass enabling legislation that insures the impact fees act as a "backstop" in the event that federal funding is delayed or does not materialize.  
            BCN is a collection of 26 neighborhood associations representing more than 80,000 Atlanta citizens. This is an issue that is important to all of our members. The neighborhoods closest to this area have a strong desire to see the proposed retail stores, especially the grocery store, begin operations as soon as possible to shorten their commute for groceries (which costs Atlanta sales tax revenue when they travel to Cobb County). Many more are directly impacted by the congestion at the intersection of Moores Mill, DeFoors Ferry and Marietta Boulevard.
            At our monthly meeting last week, we were informed that federal funding might finally be available. Of course, federal funds have been promised for this project since 2013. It is our hope that the federal funds actually come through, and the City's impact fees can be spent elsewhere. However, it is the position of BCN and its member neighborhoods that this project move forward with NO FURTHER DELAY. That means overriding the veto of the ordinance City Council unanimously passed last week. The ordinance at issue does not preclude the City from using federal funds if they become available in the near future. But if they don't become available, this ordinance gives assurances to the developer so it can move forward now, without any further delay.
            Alternatively, the substance of the ordinance should be incorporated into the enabling legislation that allows Atlanta to accept the federal funds with a provision that if the federal funds are not made available by early January, 2016 the impact fees will be used to avoid any delay.
            This project has languished for over a decade. Some of these delays were out of your control, but now it is completely within your control. We are asking that you remove any doubt as to further delays. This is a city project that will benefit thousands of city residents and create millions of dollars in tax receipts and economic development. It is time to take control of this City's destiny rather than leave it to politicians in Washington, D.C.
                                                                        Sincerely,
                                                                        Thomas G. Tidwell
                                                                       Chairman, Buckhead Council of Neighborhoods
V. Speakers
Sheffield Hale – Atlanta History Center CEO
Sheffield Hale gave a captivating presentation about current and planned improvements coming to the Atlanta History Center.  These include the new Souper Jenny restaurant at the center's 33-acre campus, the addition of a new 5,000 square foot atrium, as well as more new buildings in the future and the addition of two new permanent exhibits: the Battle of Atlanta Cyclorama and the historic Locomotive "Texas".  He said that the locomotive was important not because of a six-hour chase but because it symbolized why Atlanta was created in the middle of a location with no water transportation.  He added that only two locomotives of that type remain in existence.  It will be refurbished and moved to the site so it is visible from West Paces Ferry Road through a new glass wall.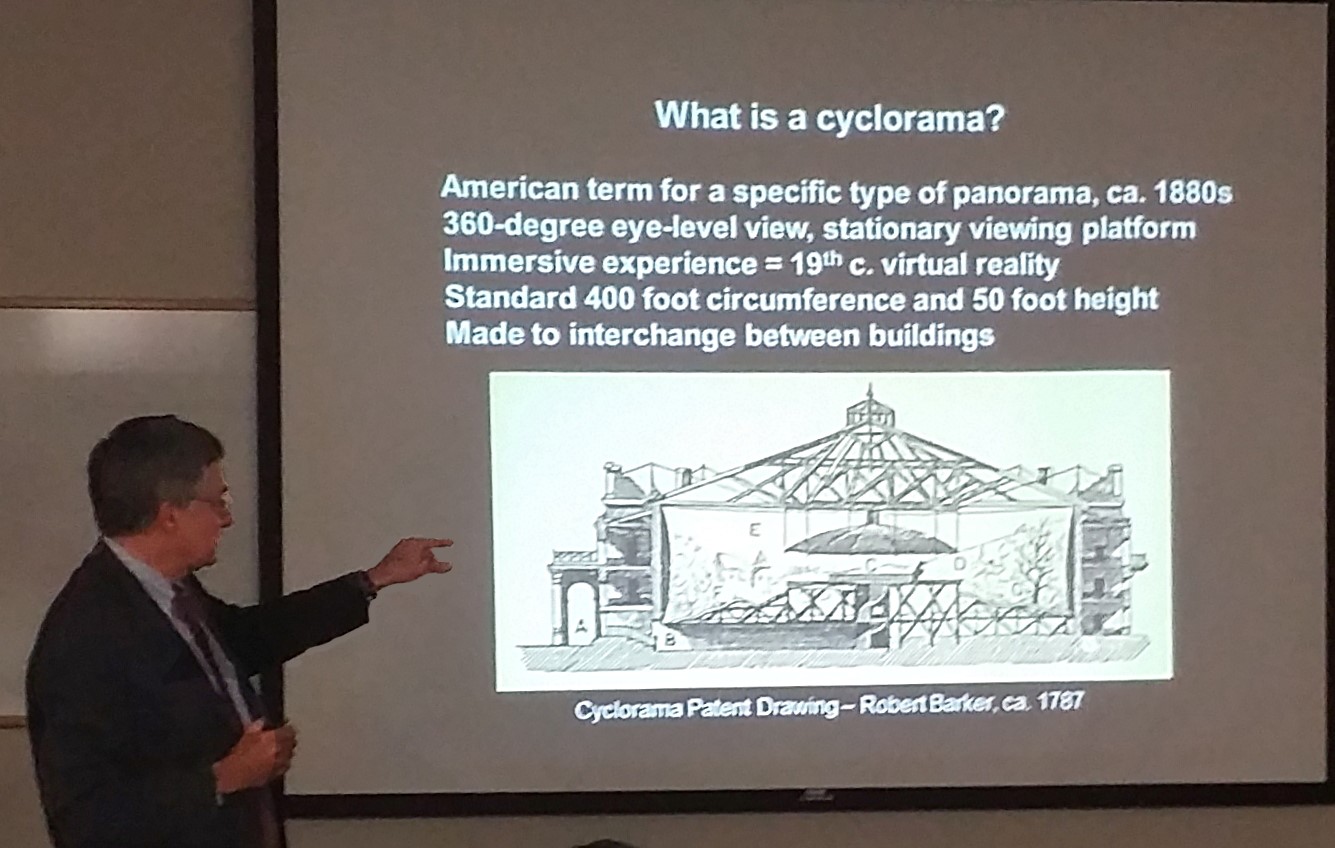 Sheffield reviewed the history of our Cyclorama which is being relocated from Grant Park to a fabulous new building at the History Center.  The Cyclorama initially came to Atlanta in 1882.  It was then moved to a wooden building at Grant Park in 1893 and then to a brick and stone building at the same park in 1921.  This historic work of art will come to the History Center in 2017 and be available for viewing right here in Buckhead in 2018.  There will be no separate charge; it will be just one of the many exhibits there.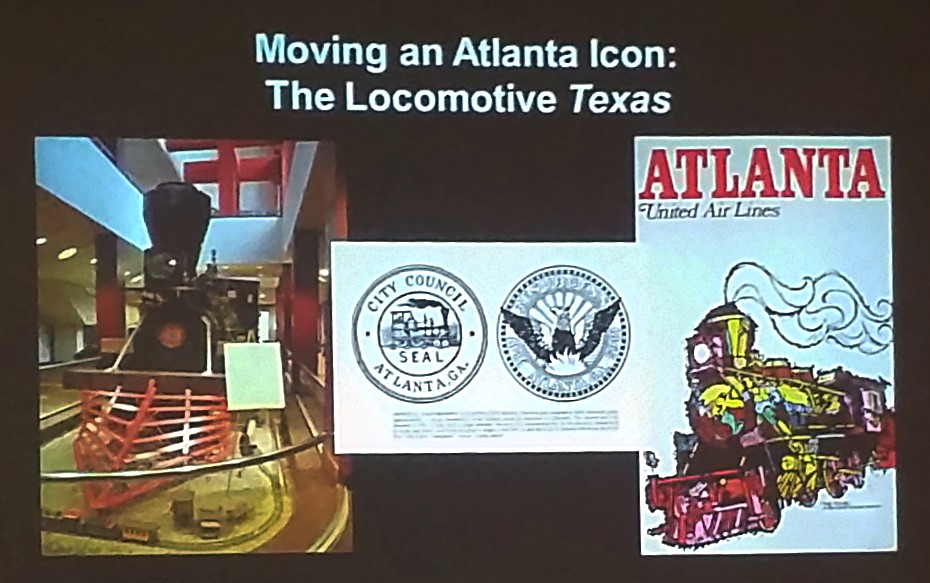 Among the many little known stories about the Cyclorama was that General Douglas McArthur visited it 26 times in 1925 and the image of the "Rhett Butler" of Gone with the Wind fame was added to the painting in 1940.
The Battle of Atlanta Cyclorama was the only one painted in the United States; the rest of the numerous cycloramas painted in the Nineteenth Century were painted in Europe.  A planned characteristic of cyclorama paintings is that they were not intended to be hung vertically like curtains.  Instead they had a complex hyperbolic shape so the painting's bottom and top were closer to the viewer's seat than the middle.  This created the sensation that the painting surrounded the viewer as it rotated in front of him or her.  Due to a lack of space at Grant Park, the painting was hung like a curtain, causing it to wrinkle.  The wrinkling, as well as the loss of ten feet of the upper part of the exhibit's "sky" cut away in previous moves, will be restored as part of its relocation.
Becky Katz – Atlanta Chief Bicycle Officer
Becky Katz is the City of Atlanta's new Chief Bicycle Officer. She was in her third week in her new job when she spoke to BCN.  Many at the meeting already knew Becky through her previous position with Park Pride.  During her presentation, we realized that Becky would be an enthusiastic and outgoing spokesperson for the City's bicycle community.
Among the Transportation Goals Becky discussed in her presentation were "Culture Shift Goals" and "Infrastructure Goals".   Culture Shift Goals included increasing bicycle commute to work mode share, becoming a top ten city in the US for cycling to work, becoming a top ten city in the US for cycling safety, etc.  Infrastructure Goals included doubling the miles of high-quality bicycle lanes/cycle tracks, doubling the miles of high quality linked shared paths, and introducing a bicycle sharing program that supports the local economy.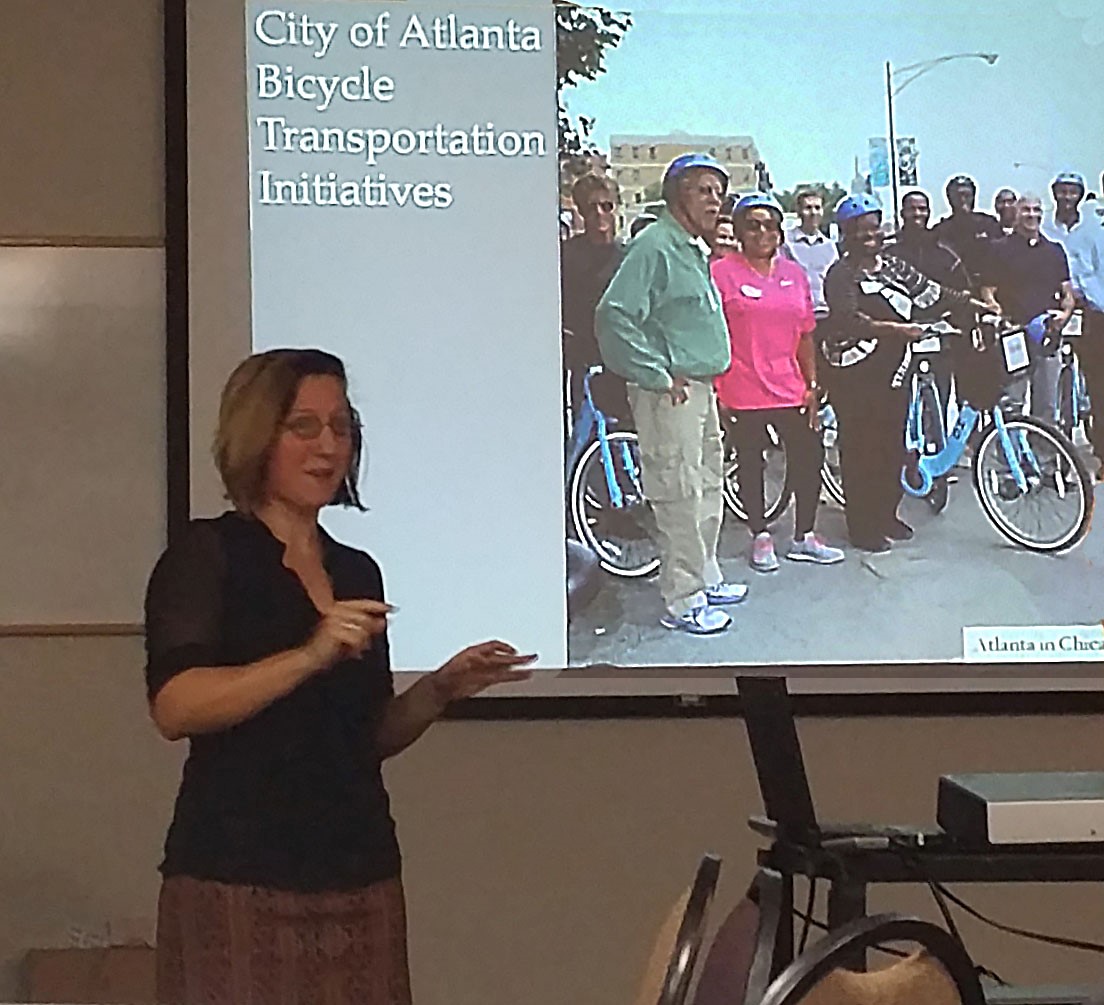 Becky broke the public into four segments regarding biking: about a third who would never get on a bike, 60% who were open to biking to various degrees, 7% who (like Becky) were ardent bikers, and a fearless 1% who rode on the city's busiest roads.
The planning for bicycles in the city has four elements: Safety, Economics, Transportation, and Health.  The presentation focused on the first three of these elements.
Regarding safety, Becky maintained that in areas where improvements were made to facilitate bicycle traffic on city streets in other cities, safety had improved.
Regarding economics, she cited cases where the profitability of local stores and shops improved when bicycle traffic infrastructure was made available.
And regarding transportation, a main thrust of Becky's presentation was that the city is undergoing a period of growth and that, since our transportation infrastructure was limited, we as a city need to focus on supporting all modes of transportation, not just for automobiles.  In other words, to maximize options, most especially for bicyclers.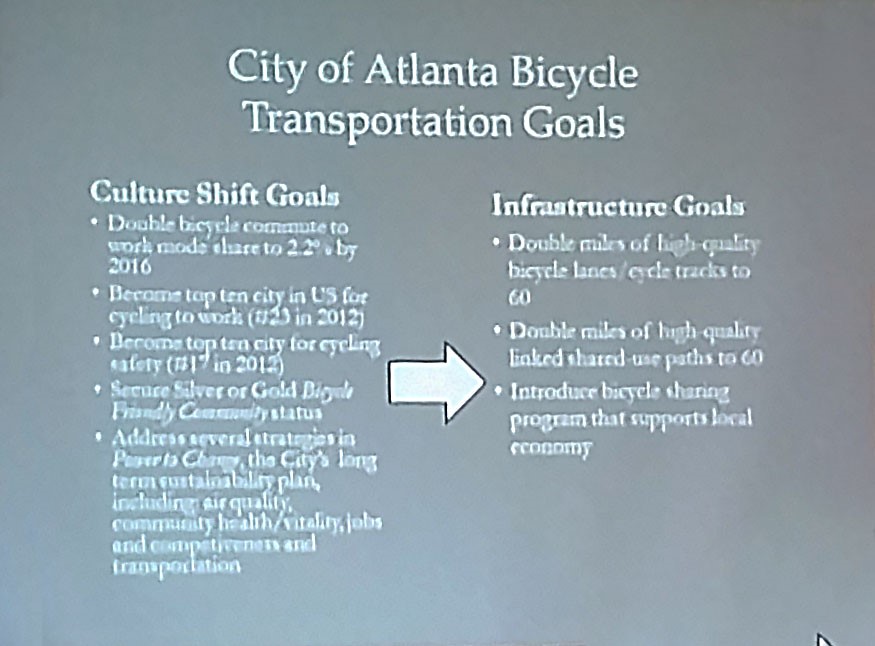 The Connect Atlanta Plan was developed in 2008 to outline detailed goals for improving the city's transportation capabilities.  The following year, the Connect Atlanta Bicycle Supplement was prepared to detail how bicycle needs could be met.  Becky also mentioned that there would be an update to the Connect Atlanta Plan next year.  Key elements of integrating bicycles into the city's transportation portfolio are education and awareness of other modes of transportation.  In response to a question, Becky acknowledged that there were some in the bicycle community who broke the rules by running stop signs.
Becky stressed that we need to look at each other as individuals and not see the world as "pedestrians", "motorists" and "cyclists".  She cited a minister whose message was "everyone is welcome –  no one is perfect":  we're all people and transportation should be welcoming for everybody.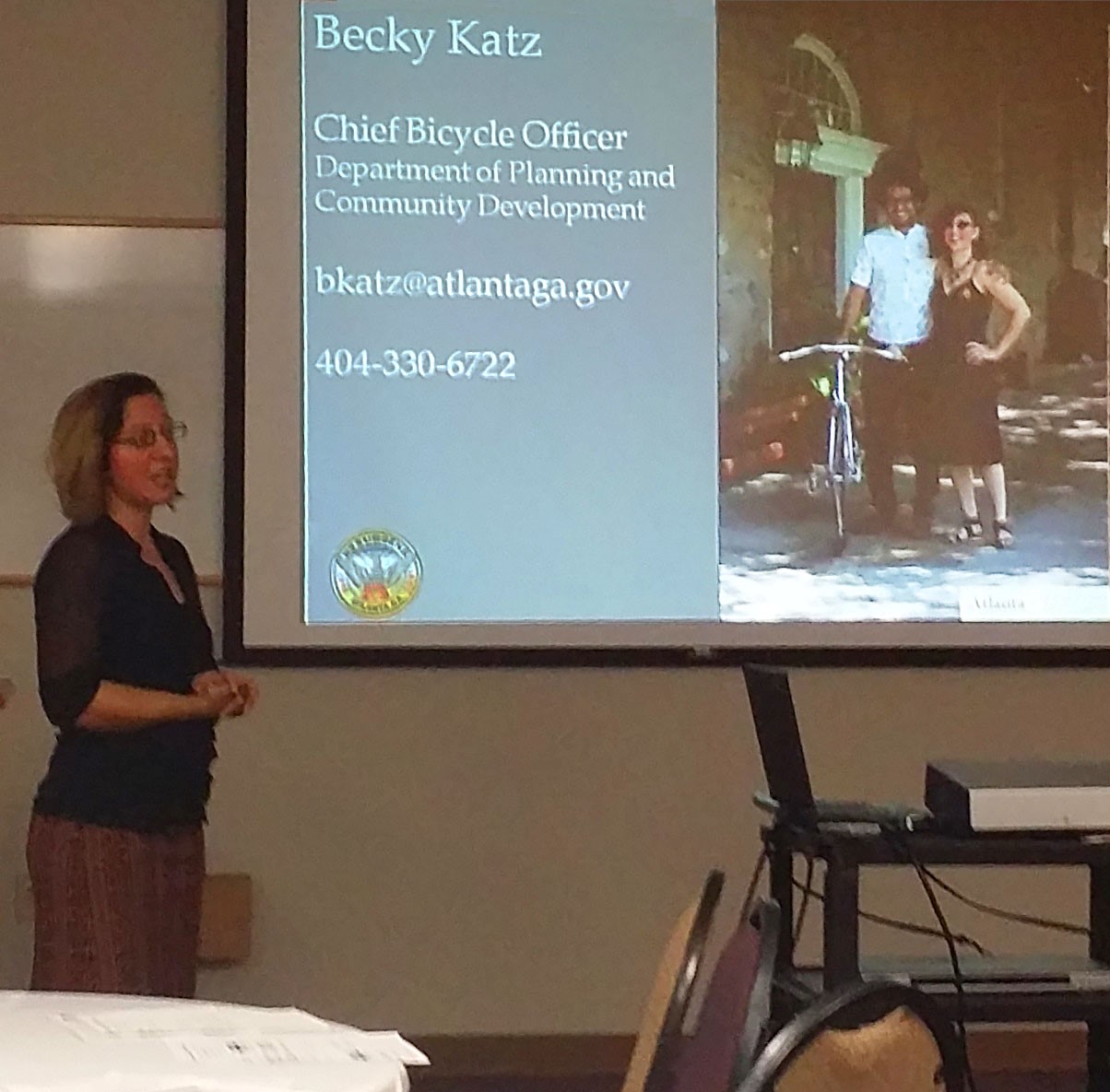 The recurring message in her presentation was the need for the city to provide the infrastructure and cultural changes needed to help get people out of their cars.
At the end of the presentation, the discussion shifted to the GDOT proposal for bike lanes on Peachtree Road.  City Council Member Yolanda Adrean expressed concern that the issue had become too politicized.  She said that some cycling advocates see getting bike lanes being a "feather in their cap" rather than focusing on the needs of the 60% percent of the population who also  deserve support in using their bikes.  She also thought that the city should have city spokespeople for promoting the needs of all modes of transportation instead of having some just focused on streetcars and others just on bikes – a non-politicized balance is needed.
Yolanda Adrean also reminded Becky and the audience that during the Connect Atlanta study residents made it clear we didn't want bicycles on Peachtree Road.  Further, the plan specified a bicycle route paralleling Peachtree from Peachtree Battle Avenue, through the E Rivers school campus, and connecting to the Beltline Trail along Tanyard Creek. She said that Connect Atlanta route was not considered while the bike lanes on Peachtree Road were being planned.  The E Rivers route is no longer considered viable but a nearby route is available along the edge of Bobby Jones Golf Course, linking by a short bridge to Dellwood Drive.  She said she recently discussed that alternate route with City Transportation representative and GDOT.  She said that she intended to pursue the creation of the Jones/Dellwood route and that, as a member of Becky's 60%, she would love riding her bike on it.
VI.  Community Concerns/New Business/Announcements
VII. Next Meeting   December 10, 2015
IX. Adjourn
– The meeting adjourned at about 8:15 PM.
Note: The opinions expressed by the speakers and individual neighborhood representatives in these minutes do not necessarily represent those of BCN or its member neighborhoods.