BCN Members Version – PDF (login required).
I. Welcome & Introductions
Tom Tidwell called the meeting to order at about 6:45 PM.
II. Approval of Minutes
Minutes for the July, August and September meetings were approved.
III. Admit New Member Neighborhoods
No neighborhoods asked to be admitted to membership in BCN.
IV. Speakers
Caleb Racicot – TSW Planning – North Buckhead Master Plan
Gordon Certain introduced the reasons North Buckhead had decided it needed a neighborhood master plan:
The neighborhood is large (double the population of Jonesboro, half the population of Decatur).
It has experienced rapid population growth (2000-2010: 47% growth; 2010- 2020: 42% growth anticipated.
Neighborhood surveys indicate residents are concerned about many issues, particularly traffic and land use issues, but also including parks, environmental issues, neighborhood employment trends, demographics, urban design and historic preservation.
North Buckhead Civic Association hired TSW to help prepare a master plan that met the requirements of the City's Planning and Neighborhood Development Department.
Caleb Racicot is an experienced planner. He originally worked for the city and since then has guided a number of Atlanta neighborhoods through the process of successful neighborhood planning, helping cities with zoning, etc. The neighborhoods they have worked with include Old Fourth Ward, Loring Heights, Poncy-Highland, and many others.  TSW set out to conduct a four phase process to work with neighborhood stakeholders including residents, business owners and operators, workers and non-profits, both in and near North Buckhead. The process is depicted below: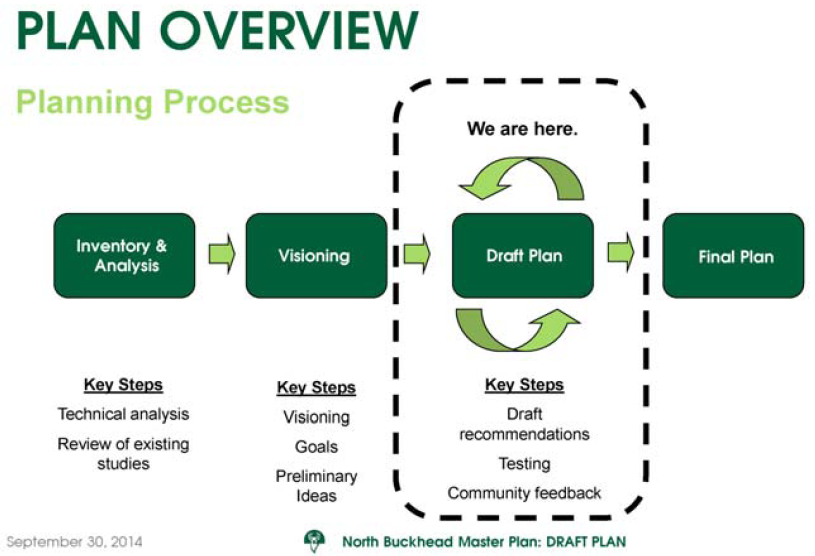 The process kicked off in July. A stakeholders committee including neighborhood residents, business people, developers, investors, etc. was established. Working groups were established to look at specific topics, notably transportation issues. A public workshop was organized to let everyone brainstorm about  the opportunities. A list of preliminary proposals was presented to the public at the end of September. These included land use  recommendations (protect the existing single-family core of the neighborhood from commercial encroachment, establish a zoning overlay along Roswell Road). Parks expansion candidates were identified as were other recreational projects (the PATH400 trail along GA 400 and the Blueway Trail to connect the Blue Heron Nature Preserve to Chastain Park. Many roadway, sidewalk, crosswalk opportunities were identified.
The draft master plan document was released about a month later. The preliminary proposals and draft plan was used as a basis for an online public survey to conducted during November. Concurrently, the City of Atlanta was presented with copies of the same information, enabling them to provide feedback. Insights from these two review tracks will be used to make final changes to the master plan, which will be presented in a public meeting in early December. The final  report will then be provided to the city for its official review. This will lead to a City Council vote on the plan to approve it becoming a formal part of the Comprehensive Development Plan.
Michael Diamantides, General Manager of Buckhead Atlanta
Michael Diamantides made it completely clear: Buckhead Atlanta is upscale. That was the message.  The huge project's businesses are progressively opening but the landscaping is mature and looks like it has been carefully tended for years. That is the kind of attention that was conveyed about the project. There were other uncommon touches: the valet parking service works for visitors, project wide – drop your car on one street and when you are done shopping or dining on another street, just let them know and they'll bring your car to you.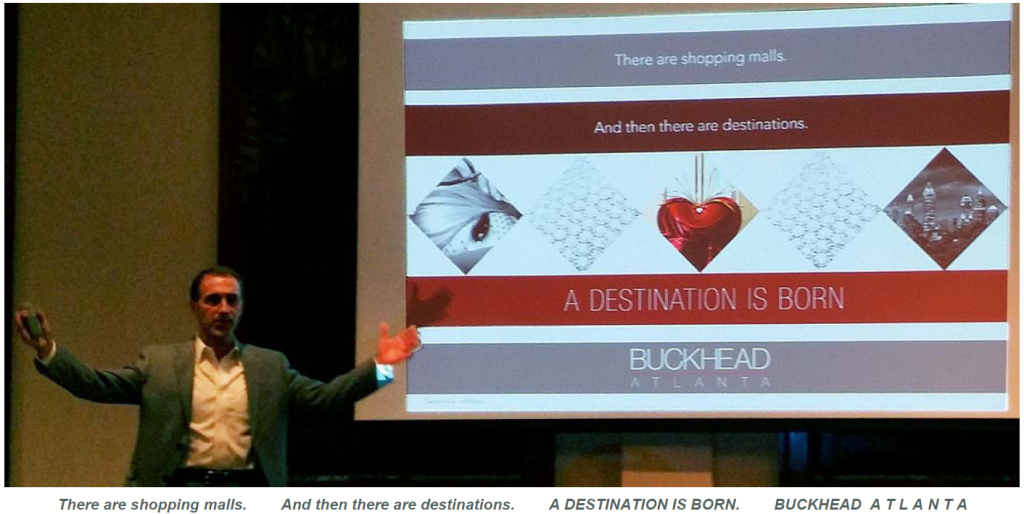 Have an armful of packages and your car is somewhere else? Just call them and they'll bring your car so you can load it with your stuff and they drive away so
you can keep shopping. The parking decks are likewise userfriendly: there's a green light over each vacant parking space and a red one over the ones that are full.It was a very interesting and comprehensive discussion of Buckhead's newest attraction.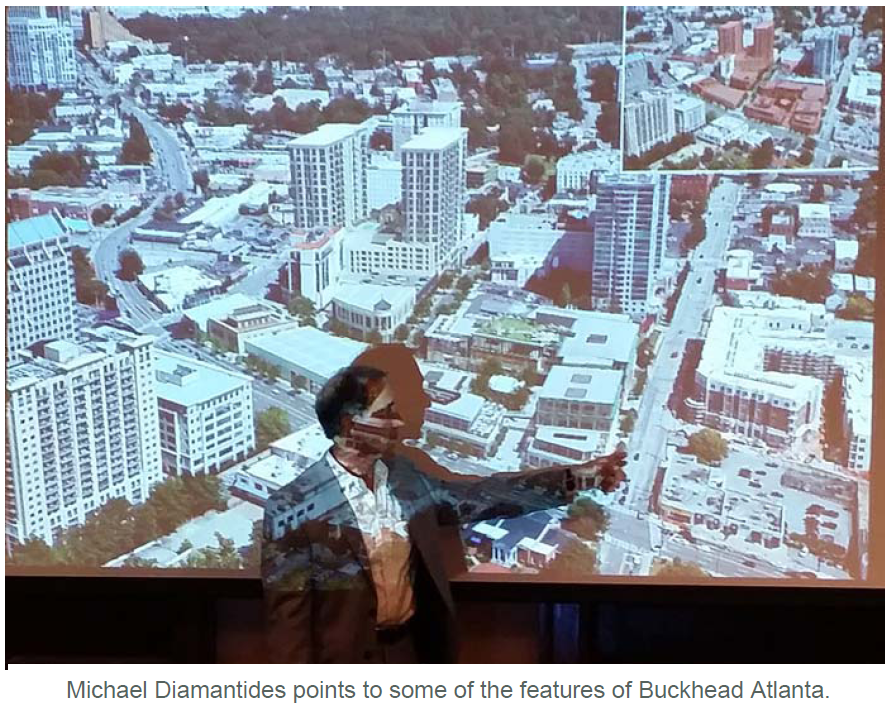 V. Community Concerns/New Business
Legislative Initiative
Ron Grunwald had planned to outline a plan to put together a legislative agenda to make to the City Council or the Legislature. He asked neighborhood associations to discuss their needs and be prepared to discuss them at the November meeting and maybe at a follow-on session.
VI. Committee and Liaison Updates
Communications Committee
Education
Tom Tidwell said that the APS is choosing a "school model" from three options: a charter system, "IE squared", or status quo. He said an advisory commission had recommended a charter system. He said that doesn't mean we will have charter schools. Instead, there will be increased accountability and meeting certain  standards in exchange for which they get waivers from some statutes and State Board of Education rules. Tom said that he contacted both candidates for the  state Commissioner of Education office, inviting them to speak to BCN. Only one responded: Valerie Wilson, the Democratic candidate. She did attend and Tom gave her a few minutes to introduce herself to BCN.
Executive Committee
Membership
Parks
Public Safety
Transportation, Development and Infrastructure
VII. New Business/Announcements
VIII. Next Meetings
November 13, 2014 in room 2315
December 11, 2014 in room 2202
IX. Adjourn – The meeting adjourned at about 8:45 PM.
Note: The opinions expressed by the speakers and individual neighborhood representatives in these minutes do not necessarily represent those of BCN or its member neighborhoods.